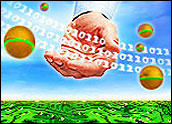 In the never-ending quest to differentiate themselves from competitors, online retailers often turn to content to set themselves apart and enhance the quality of their Web contact with customers and would-be customers.
The need to automate the distribution of content has given rise to a fast-growing software niche of Web Content Management (WCM), tools that help organize and deliver content to Web sites, from intranets to dynamic e-commerce sites to sites in multiple foreign countries.
Top of the List
A Forrester research survey earlier this year found that the vast majority of major enterprises in the U.S. and Europe planned to invest in expanded WCM deployments this year and other firms have identified the niche as one of the fastest-growing enterprise software categories.
"As content grows increasingly important as a point of differentiation for online retail, content management requirements make their way to the top of manufacturers' and retailers' agendas," said Forrester analyst Tamara Mendelsohn
A number of software makers have targeted the WCM niche, often bringing different expertise to the area, including tech giants such as Microsoft and EMC that have a strong foothold in enterprises. Forrester ranks three firms, Tridion, Fatwire and Interwoven, in the top tier for retail sites.
"Web content management is currently seeing something of a renaissance, having been overshadowed by the frenetic mergers and acquisitions activity in the broader Enterprise Content Management market," said Pieter Varkevisser, the CEO of Amsterdam-based Tridion, which is seen as a market leader in Europe in particular. "Our customers are buying into our solutions because they deliver immediate benefits — benefits that range from better Web site management to faster roll-out of multi-lingual marketing initiatives."
Coming Through
Eben Miller, director of product management at Sunnyvale, Calif.-based Interwoven, said WCM tools can help companies control the vast quantities of "unstructured content" that they might want to leverage to build stronger Web sites.
Interwoven offers tools that include the ability to create and store and revert to different versions of a Web site and a publishing engine that enables pages created to be pushed through multiple channels from a single location. Content is also easily integrated with third-party tools such as credit card processing and shopping cart software.
"Successful commerce sites are doing a lot more than just listing products and showing the basic catalog information," Miller told The E-Commerce Times. "There might be specific promotional information they want to present, or another associated digital asset, to provide the complete customer experience. It's the whole ecosystem of information."
One Interwoven customer, British Telecom (BT) used the firm's tools as part of an effort to boost the amount of transactions it conducted online. They used WCM to pull content that was being collected on various systems and through various points of contact, including call centers, to ensure consistent messaging, pricing and promotion.
As a result, the number of online transactions conducted with customers at BT tripled between 2003 and 2005 and is expected to triple again within the next two years. By 2007, the telco expects to handle 28 percent of all transactions on the Web.
Peaking Interest
Chrysler also uses Interwoven, recognizing that nearly two-thirds of all car buyers research online before making a purchase. The WCM tools enables the marketing department to append additional information into Web pages.
"The whole idea is to put content in front of customers that's more relevant [to the customer]," Miller said. "The more relevant information you can present, the better chance you're going to have with transactions."
It's that promise that's driving growing interest in WCM. Gartner estimates the market for the software will move past $2.5 billion by next year. Other analysts say linking other enterprise content management (ECM) with Web-facing solutions is the key to unlocking more investment in WCM, with Forrester predicting that overall ECM demand will far outstrip overall growth in the software market, growing 19 percent per year to reach $4 billion by 2008.
While much of that demand will be driven by the use of ECM as a compliance tool for regulatory requirements, the ability to link back-end data with public or partner-facing Web sites is also a powerful draw.
And the market goes well beyond companies involved in business-to-consumer retail to include manufacturers, wholesalers and other business-to-business (B2B) companies.
Jeff Ernst, vice president of marketing at FatWire Software, said any industry that hopes to use the Web as a low-cost way of having rich customer contact can benefit from WCM, from financial services to telecommunications, retail to B2B.
"To maximize conversion rates, companies need the ability to manage unstructured content, rich media, product information, and campaigns within a single solution," Ernst said. Just as important, easy-to-use WCM solutions also put the control of that content "into the hands of marketers and merchandisers," enabling faster response to changing consumer demands.
---
This story was originally published on Sept. 22, 2005, and is brought to you today as part of our Best of ECT News series.
---