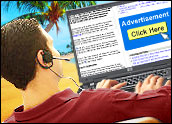 Not long ago, it sometimes took Web pages 30 seconds to load, thanks to slow, dial-up connections over-burdened servers and inexperienced Web design.
Now, with high-speed connections and rapidly evolving technology, the days of slow-loading pages are gone. However, users might want to get used to waiting 30 — or 15, or 10 — seconds to see their chosen content. Analysts say TV-style video commercials are almost certain to proliferate on the Web as it becomes one of the most important advertising venues available to marketers.
"TV is moving to the Web in a major way," Enderle Group principal analyst Rob Enderle told the E-Commerce Times. "Specialized programming, movie previews and news programs are finding new audiences who want to watch. Thanks to broadband and an audience shift away from TV to the Web, advertising resources are following the users."
Rapid Growth
Forecasts calling for online advertising to continue to grow in double-digit figures for some time to come now take into account the inevitable arrival of video commercials. Recent innovations such as Google's video search and similar technology from both Yahoo and AOL, seem to portend the imminent arrival of such commercials.
The Interactive Advertising Bureau said online advertising spending reached US$9.6 billion in 2004, a 33 percent increase over the previous year, and is on pace to continue that rapid growth.
Underscoring the arrival of rich-media ads, the IAB in May released a draft of its first-ever set of creative guidelines for broadband advertising. The voluntary guidelines are meant to offer both Web publishers and content owners and marketers some common ground on how and when such ads should appear.
The potential upside for the Internet is enormous: Marketers pumped $70 billion into TV ads last year in the U.S. alone.
Fragment of the Imagination
However, apart from technology, seismic shifts in the audience marketers are trying to reach are pushing more advertisers online. As they arrive, they are seeking new ways to stand out and catch Web users' attention.
"The TV audience continues to fragment," said PricewaterhouseCoopers New Media Group Chair Tom Hyland. "Add the growth of broadband in the home, which enables advertisers to deliver rich media, and brand advertisers have a new mass audience to target. The economics are too compelling for marketers to ignore."
Still, analysts say users shouldn't expect to see the same ads that appear on "Desperate Housewives" showing up in their browser window. Instead, marketers are hard at work on using the inherent power of the Web as a tool for personalization to create video commercials that literally speak to individual users.
"Video commercials will spread online, but the successful ones won't be much like traditional TV commercials," Bruce Kasanoff, president of marketing firm Now Possible, told the E-Commerce Times.
Instead, Kasanoff said, the ads will be more likely to interact with viewers than "talk at them." Web commercials will also be more entertaining because of the creative freedom the Internet affords.
Power of the Web
Eventually, such ads will be "dynamically generated," with the same commercials appearing slightly different to individual viewers based on when and where they're seeing it and basic demographic information, Kasanoff added.
The IAB notes that advertisers are turning to the Internet more and more because it's the one medium that has developed an instant method of measuring effectiveness. Rather than relying on subjective notions of brand awareness, Web ads can be evaluated in real time to determine if they're prompting users to take action by clicking to a Web site or requesting information about a product or service.
Still, analysts say it's too early to know how such ads will be distributed online. Ads might appear before content loads, or they might show up halfway through a video clip or other media, when users are more likely to be paying attention. Or they might come at the end of a music video or in between rounds of an interactive, multi-player video game.
Much will likely depend on how users react. So far, the early forays into online video commercials have not been met with much in the way of outcry, Enderle noted.
"Although some grumble that video, in some instances, can add substantially to page load time, for the most part, the videos aren't invasive," Enderle said. "Keeping users happy will depend on ensuring that the ads do not damage the overall browsing experience and often engage and entertain the users. In the end, if the users aren't bothered or, better yet, enjoy the ads, then there won't be a problem. If not, users will find ways to turn the ads off."
Proceeding With Caution
Ironically, the inability to turn the ads off might be one reason why video advertising actually grows online, analysts and industry insiders say. On TV, digital video recorders (DVRs) such as TiVo are being blamed for drops in the effectiveness ratings of television ads, along with the splintering of the TV audience thanks to cable and specialty channels.
For that reason, advertisers will likely proceed with caution, being careful to avoid alienating users with their advertising. Indeed, some analysts say that the need to entertain users might give rise to a new breed of online ad, one that is fast and to the point and also includes a call to action from the user.
Analysts say one essential ingredient that will be needed for online video ads to work is enough premium content to drive users to a site and then convince them to sit through the ads.
That has already started to happen. Within the past month, MTV launched MTV Overdrive, a broadband-focused site that enables users to download video clips and other programming. Also, Nickelodeon launched TurboNick, which offers clips of Nickelodeon shows and other content.
Who will reap the benefits? That also is still very much in question. Niche sites such as ManiaTV! have begun to attract advertisers attention. ManiaTV!, which launched last fall, now says it draws 1.5 million unique viewers to its pool of action sports, music and short film content. The advertisers are there waiting for users, with Levi's, Jeep and the U.S. Navy among those putting campaigns on the Web site.
Where the Buyers Are
ManiaTV! founder and CEO Drew Massey said those advertisers are not just seeking user eyeballs, but the right ones, especially the much sought-after younger demographic.
"Advertising dollars aren't being diverted to the Web because the Web is a better marketing platform, rather it's where today's consumers can be found," Massey said. "Companies looking to reach the crucial 12- to 34-year-old marketplace know that the Web has become their entertainment portal."