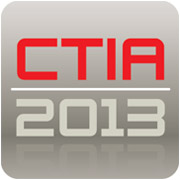 The key for developing a mobile strategy? Understand the customer. That was the theme of Wednesday's keynote presentations at CTIA 2013, the wireless industry trade show held this week in Las Vegas.
Companies that address their consumer find higher adoption and engagement. In the case of Walmart, the world's largest retailer has found a way to push boundaries while addressing the consumer's needs and interests.
On the other hand, Rovio, creator of Angry Birds and other popular mobile games, has taken the approach to make things simple — while always delighting the customer.
Walmart on a Smartphone
Whether its customers buy their smartphones from Walmart or another retailer, the store has learned that its customers use their phones as a shopping tool. It has built an app to serve that audience.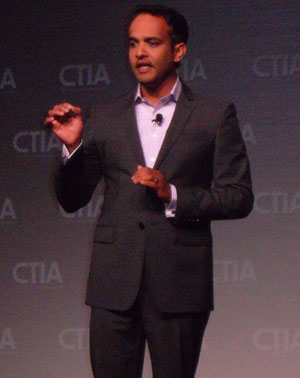 Gibu Thomas, Walmart's GlobalHead of Mobile
The single app takes different forms whether the customer is in the store or at home, and operates as a running shopping list, recommendation engine and circular for ads.
"I want to focus on something much more tangible — people, hundreds of millions of people, and how mobile is helping them save money so they live better," said Gibu Thomas, global head of mobile at Walmart. "The smartphone has touched so many parts of our lives that we no longer think of it as a device, as much as part of our hand."
In developing a mobile app for Walmart, Thomas had to think about how mobile fits into the equation.
"The biggest disruption in retail over the last 15 years has been e-commerce," said Thomas. "When you look at what has made e-commerce successful, it's delivering a personal experience — how we bring online disruption into the store, and bring it back to being personal and interactive. The same ethos that makes mobile so disruptive is what makes Walmart so successful — the access to services."
The customer is always the priority for Thomas and the mobile development team at Walmart.
"We see the world through the eyes of the customer, and recognize that they are in control," he said. "There are too many channels — online, offline, multichannel, omnichannel. Customers don't care about channels. Where mobile is unique is that it's capable of delivering all of Walmart … and that gives them choices."
Choice is exactly what Walmart tries to provide.
"Our mobile strategy is as simple as it is audacious. We want to provide tools that are indispensable," said Thomas. "The customer controls what is optional vs. indispensable."
The app that Walmart built serves the customer at home, where he or she might generate a shopping list, and also at the store, where the list is used for shopping. The app has a number of features to make those activities easier. List generation gets help with features such as a barcode scanner, predictive type, and a running tab that adds up all the items on a list.
To make the app intuitive, Walmart created a geofence to enclose all of its retail locations. Once inside a store, the app automatically shifts to in-store mode. It makes the list easily accessible, and can even help locate items in the store. It also has a recommendation feature so if a consumer finds one item, it will recommend what merchandise will complement it — whether it is completing an outfit, items in the housewares department or elsewhere in the store.
"Walmart customers are embracing technology to shop on their terms," Thomas said.
Taming the Angry Birds
Rovio may have a different business model than Walmart, but it shares the same goals of simplicity and engagement with customers on a mobile platform.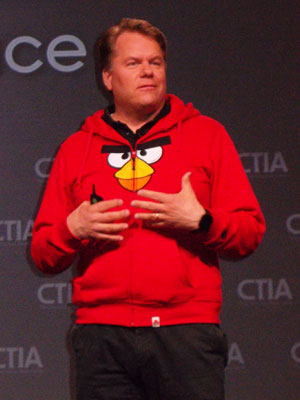 Rovio Chief Operating OfficerHarri Koponen
Rovio Chief Operating Officer Harri Koponen took the stage flying the colors of the company's flagship property, Angry Birds. He donned a red Angry Birds hoodie and matching sneakers. (The sneakers, by the way, are not available — they were a gift from one of Rovio's licensee partners.)
"We are not just a games company anymore," said Koponen. "It's all about evoking emotions."
Rovio has expanded beyond its hit Angry Birds game. The company has built an entire Angry Birds franchise, but also extended the property from mobile games to merchandise and even a cartoon line that Rovio refers to as "Toons," which air on the Cartoon Network's website. There are also Toons links on the start screen of Angry Birds, of course.
The company has a games studio, an animation studio, a licensing unit, and a new business venture unit that is exploring book publishing, activity parks and similar venues for Angry Birds and other properties.
Fans are the priority for Rovio. "Fans are important," said Koponen, who said the goal is to "delight the fan. Rovio is a media entertainment company. Business is important, but we will never go away from the fan experience. At the end of the day if we make you feel miserable, there is no business at the end of the day. We're a simple concept, still making fans the center. We focus on quality, affordability and delight."