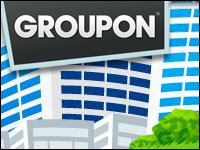 After weeks of widespread uncertainty and speculation, Groupon is expected late Thursday to set the price for its Friday initial public offering (IPO).
Though the daily deals site has been expected to set a price within a planned range of $16 to $18, most reports now suggest that it will be a dollar or two above that level due to unexpectedly robust demand.
Groupon will reportedly offer some 34.5 million shares in its IPO, The Wall Street Journal reports, or roughly 5 percent of its total of 637.3 million shares outstanding.
Nagging Questions
After enjoying considerable growth and popularity since its launch in late 2008, enthusiasm for Groupon has seemed to wane considerably in recent months. Critics have questioned whether the company's business model is viable in the long term, for instance, as well as whether it holds a significant enough advantage over a growing number of competitors, including Amazon and Google.
Though in June it initially announced plans to go public with an expected valuation of as much as US$20 billion, the company was said to be reevaluating those plans in early September following a rough summer market and concerns over the debt crisis in Europe.
Nevertheless, in late October it set Friday as the official date for the IPO. Its most recent regulatory filing indicates that it's seeking a valuation of about $11 billion, according to the Journal.
'It Will Probably Have a Strong IPO'
Meanwhile, Groupon is reportedly oversubscribed for its IPO, and investors and analysts generally seem undaunted.
"Notwithstanding the economy and Groupon's particular troubles, it will probably still have a strong IPO," Greg Sterling, founding principal of Sterling Market Intelligence, told the E-Commerce Times. "Many investors are probably taking a wait-and-see approach, given all the negative coverage. But if it starts strong, we'll see others quickly jump in and push the price up."
Groupon's IPO may, in fact, follow a pattern similar to that of LinkedIn, Sterling suggested, "where investors bought the shares and then immediately flipped them, taking short-term profits. Trading volume was much higher than the actual number of shares offered."
Given lingering skepticism about Groupon's long-term viability, "I would expect something like that to occur tomorrow," Sterling concluded.
'There Are Troublesome Signs'
The anticipation over Groupon's IPO is also reminiscent of what occurred when Vonage went public, analyst Jeff Kagan told the E-Commerce Times.
"Everyone was really excited until they went public, but it ended up not generating as much as they wanted," Kagan recalled. "It wasn't the big blowout everyone thought it would be."
It's clear Groupon has a good idea, but the whole sector it created is "cooling quickly," Kagan added. "Right now, there are troublesome signs."
So, the question now is, "Is the sector going to continue to be hot and growing with a limited number of competitors, or will the whole sector fade away?" he concluded.
'An IPO Will Generate Additional Excitement'
Still, as the big day approaches, most indications for Groupon's IPO are upbeat.
"I think they'll make and do fine," Lon Safko, social media entrepreneur and coauthor of The Social Media Bible, told the E-Commerce Times.
"An IPO will generate additional excitement in the concept, and they really were the first out there with this concept," Safko explained. "First in market carries some weight."
'A Thumbs-Up'
Groupon's concept is a good one, he added, and "they don't have any entrenched competitors, other than what Amazon is doing."
Besides, "if Amazon thinks it's good enough to steal, then there probably is good reason," Safko suggested.
So, all in all "I'd give the IPO a thumbs-up," Safko concluded. "Think about what Groupon did without the proper funding, then imagine what they could do with a healthy budget."