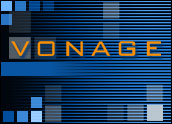 Vonage shares surged higher amid a stock market selloff Thursday after the VoIP (Voice over Internet Protocol) provider — recently seen teetering on the brink of extinction due to legal issues — posted better-than-expected earnings.
Vonage cut its net loss to US$34 million, or 22 cents, in the second quarter, less than half of the losses it posted in the year-ago quarter when it lost $74 million. Revenue was up 43 percent to $206 million.
Getting closer to profitability became Vonage's main goal earlier this year as investors grew restless about what had been a growth-first strategy that emphasized acquiring new customers, often at a steep cost.
Workaround Solutions
Perhaps more importantly, Vonage said it had "substantially completed" deployment of workaround solutions for two of the three technologies that a jury found earlier this year were covered by patents held by Verizon Communications. That could help avoid the royalty of 5.5 percent that Verizon had won from a jury, an amount that could make achieving profitability even more difficult for Vonage. The company said it is working on a third solution.
"This is a significant step toward moving ahead with our business," said Vonage Chairman Jeffrey Citron.
"We made significant strides this quarter in reducing costs and narrowing our losses" despite "the continued challenges associated with the Verizon litigation," he added.
Reduced marketing expenses helped cut financial losses but also slowed subscriber growth. Vonage added 56,691 subscribers in the quarter, giving it a total of 2.45 million.
Vonage stock was up as much as 10 percent in afternoon trading to $2.50 despite a 200-point drop in the Dow Jones Industrial Average and a 1.5 percent plunge in the Nasdaq.
Waiting for the Other Shoe
The stock price jump was also surprising because Vonage still remains under the legal gun, as a judge is set to hear arguments in its appeal of Verizon's patent victory as soon as next month.
Still, Vonage also faces a lawsuit from Sprint Nextel which alleges the service infringes seven of its patents. That case could go to trial next month as well.
"If it can survive the legal issues, Vonage has put itself in a better position to become profitable," said Ovum analyst Mark Main. However, by the time that happens, Main said, the VoIP market may have reached a point where Vonage will be able to carve out only a small niche customer base for itself.
Already, Vonage has lost its title as the largest VoIP provider in the U.S., with Comcast recently saying it now has 6 million customers for its digital voice product.
Vonage disclosed that its customer churn, or turnover rate, rose slightly to 2.5 percent, up from 2.4 percent a year ago. However, part of that reduction came from a grace period Vonage put in place that lets customers who have not paid their bills remain customers longer while they attempt to get caught up. Without that program, churn would have been 2.7 percent, Vonage said.
Even though it cut marketing spending to $68 million from $91 million a quarter before, it still spend $14 more for each new customer it acquired, with those costs coming in at $287.
Not Dead Yet
While Vonage has been seen by some as a bad risk because of its legal issues, it looks stable compared to the flameout of fellow VoIP provider SunRocket, noted telecom analyst Jeff Kagan.
SunRocket left thousands of users without service when it shut down abruptly in July. "Other VoIP customers worry about that happening to them and the bottom line is it could," he said. That fear is much more likely to be felt by customers of Vonage than one of the major cable or telecommunications companies, which are rapidly becoming the main providers of IP calling services.
"Vonage could still be successful," Kagan added. "If they successfully get through the suit with Verizon, and continue to improve the quality of their service, and continue to be sensitive to the pricing changes that will be required."
Vonage's cash reserves continue to dwindle, with the company ending the quarter with $344 million in reserves — $66 million of which is tied up by the Verizon verdict now under appeal.