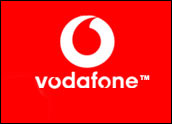 Vodafone, one of the largest mobile phone carriers in the world, unveiled a sweeping restructuring plan designed to cut costs and help it compete in a rapidly changing marketplace.
The UK-based company — the largest mobile carrier in terms of market value — plans to split into three units to focus on mature markets, emerging markets and new technologies starting May 1.
Vodafone hopes it can use the new structure to significantly reduce costs in mature markets, such as the UK and the rest of Europe and to boost profitability in emerging markets, such as India, South Africa and Turkey. The company has been on an extensive acquisition spree in those areas as well as part of central Europe where many economies are still emerging from decades of Soviet Union control.
CEO Arun Sarin said the time was right for the move as mature markets move to more data-intensive next-generation services such as mobile video.
"By creating three new business units, and with an increased focus on costs, we are reflecting the different approaches that will be required to continue to succeed, both in terms of our existing operations and in capturing new revenue streams for the future," Sarin said.
Analysts said the move was also necessary to answer criticism that Vodafone is not rewarding shareholders enough for the company's growth, with the company's market value declining even as it has grown.
Mum on Verizon
The announcement of the changes came with no word on whether Vodafone would move to divest itself of its share of Verizon Wireless. Verizon has made it clear that it would welcome the opportunity to buy out that stake and owning the mainly U.S.-focused Verizon is not necessarily within the core focus of Vodafone, though the stake is likely to grow in value as Verizon expands.
The restructuring is a recognition that various parts of the world have vastly different needs when it comes to wireless services, said Gartner analyst Lisa Unden.
"All European telecommunications service providers are seeking ways to mitigate revenue losses in the changing marketplace," she said. "Operators face declining revenue from traditional voice and legacy data services, and margins are being squeezed by competitive technological and regulatory pressures."
At the same time, emerging markets have very different dynamics, with low-cost voice plans still making up the majority of revenue, but higher-value data services close behind.
Vodafone said its New Businesses and Innovation unit will focus on converged and Internet-based services to develop new revenue streams from customers, a recognition of the competition the company will face in that segment from other telecoms and new market entrants.
New World Order
Vodafone is just one telecom company making major changes in order to better compete. Last month, the company said it reached an agreement to sell its slow-growing Japanese business to Softbank.
Verizon, meanwhile, has revamped its holdings to reflect the new world order, announcing this week it would sell off several Latin and South American assets as it focuses on its own core markets, especially the U.S.
"Companies are realizing the level of competition is going to be very high in the telecommunications space," telecom analyst Jeff Kagan told the E-Commerce Times. "Carriers will want to focus their resources as much as possible on the markets where they have the best chance of being profitable."