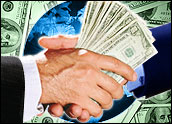 French media giant Vivendi will buy a sizable stake in video game publisher Activision and merge the company with its own successful gaming unit, creating a game-development powerhouse.
The deal will produce a new company, known as "Activision Blizzard," that will have US$3.8 billion in combined revenues this year and may put pressure on other publishers, such as Electronic Arts and Take-Two Interactive, to consider their own consolidation strategies.
The complex agreement calls for Paris-based Vivendi to split off its games unit and merge it with Activision, with Vivendi paying $1.7 billion in cash to acquire a 52 percent stake in the firm. Once the merger is complete, Vivendi will purchase 146.5 million of the new venture's shares for $4 billion, boosting its stake to 68 percent of the new entity.
Reaching Additional Markets
The deal will bring together one of the top makers of titles for gaming consoles — Activision's "Guitar Hero" series is one of this year's best sellers — with Vivendi's success in the multi-player online games such as "World of Warcraft."
The purchase values Activision at $27.50 per share, a 24 percent premium to its Friday closing price of $22.15 In early trading Monday, Activision shares soared 16.4 percent to $25.80 on the deal, which was announced late Sunday.
The merger is "a pivotal event in the continuing transformation of the interactive entertainment industry," said Activision CEO Robert Kotick.
"By combining leaders in mass-market entertainment and subscription-based online games, Activision Blizzard will be the only publisher with leading market positions across all categories of the rapidly growing interactive entertainment software industry and reach the broadest possible audiences," he said, adding that the deal will also help both companies reach more markets around the world, thanks to Vivendi's strength in China and Korea, where "World of Warcraft" is wildly popular.
Music and More
In addition to its "Guitar Hero" franchise, Activision is known for its "Tony Hawk" skater games and its "Call of Duty" war and action series. Like other console game publishers, it has traditionally been subject to market volatility, with sales rising when new gaming devices are released and ebbing in the periods in between. By contrast, Vivendi's Blizzard unit sells mainly PC games, which enjoy a more predictable revenue stream. Blizzard has signed up more than 9 million paying players for "World of Warcraft," many paying recurring monthly fees to continue their virtual quests.
With its sheer size, Vivendi can back the new venture with significant development resources, a key consideration in a market where games are more costly than ever to produce and where smaller companies can suffer from publishing a non-hit title.
Moreover, the deal underscores how important video games of all types are becoming in the new entertainment landscape. For millions of people, video games are the preferred use of their leisure time — ahead of traditional media outlets such as television.
Young males in particular "would rather be gaming than watching television," Yankee Group Senior Analyst Mike Goodman told the E-Commerce Times. "The interest in in-game advertising drives home how much advertisers are scrambling to reach that audience."
At the same time, the past year or so has seen the gaming audience expand dramatically to include more women and older gamers thanks to the rise of casual games and the surprising success of Nintendo's Wii platform, he added.
Vivendi is a massive media concern whose holdings include the world's largest record label — Universal Music Group — one of France's top pay-TV companies, the second-largest telecommunications company in France and the largest in Morocco.
"We are excited about the opportunities for Activision Blizzard as a broader entertainment software platform," said Vivendi CEO Jean-Bernard Lvy. "This alliance is a major strategic step for Vivendi and is another illustration of our drive to extend our presence in the entertainment sector. We are creating a worldwide leader in a high-growth industry."
More to Come?
Vivendi's move sparked speculation that other consolidation would take place in the game publishing space. In fact, Take-Two CEO Ben Feder reportedly told an investment conference in New York City on Monday that additional mergers are inevitable.
The capital-intensive nature of game development requires the kind of deep pockets that drove Hollywood studios and music labels — which also need to spend heavily upfront with the hopes of scoring a hit — to combine as well, Feder said.
Size is also important to give game makers leverage in dealing with console makers, Yankee Group's Goodman noted.
Electronic Arts was previously the big player in the acquisition space this year, moving in October to acquire two independent studios — BioWare and Pandemic — in deals worth a combined $800 million.
New Possibilities
The Vivendi move could prompt other "global media concerns" to "kick-start their own video game acquisition strategies," Citigroup analyst Brent Thill said in a research note.
As with the EA purchases, the Vivendi acquisition involves a publisher that has a track record of success and merging a mainly PC games publisher with a gaming console title maker may open up significant new possibilities, Wedbush Morgan gaming analyst Michael Pachter told the E-Commerce Times.
Next-generation gaming consoles already enable multi-player contests over the Internet and are blurring the lines between PC and console games. Publishers such as EA and Activision are eager to duplicate the kind of long-term loyalty and repeat play that online multi-player games are known for, especially as advertising revenue grows in importance to publishers' bottom lines.