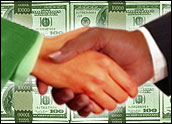 Continuing the consolidation trend that is sweeping the video game software development industry, Activision announced Wednesday that it acquired Bizarre Creations, the independent UK-based game developer behind such titles as "Project Gotham Racing" and "Geometry Wars."
The purchase gives Activision an in to the US$1.4 billion racing genre market and enables Bizarre to expand its development opportunities to include riskier ventures.
"The perfect solution for us is to join the ranks of Activision, alongside their other talented studios," the company said. "It's a pretty incredible chance for Bizarre to improve ourselves and make the most of all the fantastic new opportunities this opens up. Also, given the excellent support Activision offers this can mean only one thing: better games."
The acquisition is just the latest for Activision, which picked up "Guitar Hero" design firm RedOctane in 2006 and opened the door to the music genre. Neither company disclosed financial terms of the deal.
Start Your Engines
The racing game category, Activision said, is the fourth most popular video game genre and accounts for more than 10 percent of the total video game market worldwide. With its more than 10 years of experience in creating racing games, Bizarre Creations gives Activision access to significant share of that market through its critically-acclaimed "Project Gotham Racing" ("PGR") series for the Xbox and Xbox 360.
The "PGR" series has sold more than 4.5 million copies in North America and Europe, according to stats from the NPD Group, and Bizarre Creations said it has just finished "PGR 4" and is "putting the final touches" on "The Club."
The high cost of producing games has made the segment one in which "it's not easy being independent," Bizarre Creations said. "Signing new games is tough, and bringing new IPs to market as an indie — like we're doing with 'The Club' — is one of the most challenging things our company has ever faced. As I'm sure you can imagine, the most dangerous time for any independent is the period between projects — or more precisely between publishers."
The deal with Activision breaks the mold and is different than some other deals that have been struck in the industry, according to Bizarre Creations. Since the company was not in financial trouble, Activision is not rushing in to save it.
"We're a dev looking to take our games to the next level and make the absolute best products we can possibly make," the company continued.
Bizarre Creations insisted it will continue to exist as it is and will not become just another division of Activision, although it will be a wholly owned subsidiary. It will also operate free of any redundancies, and all of its teams will continue and function just as they did before the purchase.
"The Activision way of running things is 'hands off'. Bizarre continue[s] to have creative control over what we do, we still run the studio how we see fit, and we still get to run our won Web site and do all sorts of fun community things!"
More Options
The acquisition gives Bizarre more choices, Rob Enderle, principal analyst at Enderle Group, told TechNewsWorld.
"They were pretty much tied to Xbox 360, and this allows them to build things that will go to more consoles," he explained. "The more platforms you support, the more potential homes you have for your titles and the more money you can make. And so this gives them more freedom because they can use Activision's distribution as opposed to having to negotiate with someone."
The deal goes in the plus column for both companies because it mitigates a certain amount of risk for Activision and Bizarre, he said. Activision winds up with a larger pool of developers and potential games coming out, which enhances its ability to absorb the damage of the occasional dud game, since the number of good games can cover that up, Enderle explained.
Also, Bizarre now has access to resources that will keep the company afloat should it put out a single bad game that might have otherwise knocked it out of business.
"The problem for these independents is that they don't feel they can take a risk," he pointed out. "If they make a big mistake, they're done. This allows them to take some risks and maybe try to do something that is different."