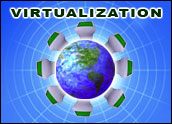 Microsoft announced Tuesday it is easing licensing restrictions for server applications. Companies will no longer be required to pay additional fees to move software within a server farm, the company said.
The move is an attempt to remove barriers in order for its enterprise customers to develop more dynamic data centers and enterprise IT systems using virtualization software, according to the software maker.
The revamped licensing is Microsoft's response to the growth of virtualization in enterprises, said Roger Kay, president of Endpoint Technologies Associates.
"Microsoft had to do something about its licensing to acknowledge the reality of virtualization," he told the E-Commerce Times.
Microsoft also announced an updated technical support policy. The new software support plan will apply to applications running Windows Hyper-V as well as any other third-party virtualization platform.
Virtual Moves
Under the earlier licensing agreement, when an enterprise needed to shift an application running on a virtual machine from one server to another server, they were hampered by a 90-day wait period. If the move occurred within 90 days of a previous change, they would either have to wait or obtain a new license for the second server.
The new policy goes into effect Sept. 1, 2008. The expanded rules will allow businesses to move any of 41 Microsoft server applications between servers within a server farm as often as necessary.
Applications included under the policy are: Microsoft SQL Server 2008 Enterprise edition, Microsoft Exchange Server 2007 Service Pack 1 Standard and Enterprise editions, Microsoft Dynamic CRM 4.0 Enterprise and Professional editions, Microsoft Office Sharepoint Server 2007 and Microsoft System Center products.
Changes to Microsoft's technical support policy affect 31 server applications. Business users will receive technical support on applications deployed on machines running Windows Server 2008 Hyper-V, Microsoft Hyper-V Server or any other third-party validated virtualization platform environment, the company said.
Dynamic Shift
Microsoft anticipates that the change will result in a reduction in the number of licenses businesses need to support their IT systems. It will also increase agility and simplify the tracking of application instances or processors as customer can now count licenses by server farm instead of server, the company said.
"It's something that's been sorely needed for a long time for customers using virtualization. To be really dynamic and agile, which is what virtualization enables, you need a licensing scheme that accommodates that," said Gary Chen, a Yankee Group analyst.
"But," he continued, "note that the changes covers only applications, not Windows Server itself."
While the decision is designed to encourage businesses to deploy virtual servers in their IT operations, it's no coincidence that these alterations came after the release of Microsoft's Hyper-V virtualization software, Chen told the E-Commerce Times.
The software maker's move to provide software support for applications running competitors virtualization software is another significant step, according to Chen.
"It's very important, as Hyper-V is new and VMware is the current market share leader. If they didn't support VMware, it wouldn't really impact many people at this point in time," Chen said.