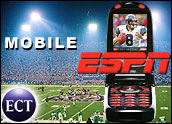 In the latest sign that marketplace demand for branded mobile services is not as strong as once believed, ESPN said it would shut down the Mobile ESPN service and turn its attention to licensing its content to existing carriers.
Mobile ESPN launched early this year as a mobile virtual network operator (MVNO). It went live behind a strong marketing push that included ads during the Super Bowl and other major sporting events. The service offered users direct access to a deep well of sports-related content, from live game score and stat updates to streaming video of games and "SportsCenter."
Back to Basics
ESPN said it "remains committed to growing its presence" in the mobile space, but suggested it now recognizes the MVNO approach is not the right way to reach end-users. Instead it will turn to licensing content to existing carriers, something it did for several years before attempting to go directly to consumers with Mobile ESPN.
"Our MVNO effort created a tremendous wireless asset widely recognized for quality and innovation, and as a result we have been approached by well-entrenched carriers about a licensing model," said Salil Mehta, executive vice president of ESPN Enterprises. "We have decided to pursue it. With a redefined approach we have a greater opportunity to reach millions of fans while achieving our strategic and financial goals."
ESPN is a member of the Disney corporate family, and attention may now turn to related efforts from the media giant to foster MVNO growth. For instance, it launched a line of phones and services aimed at families under the Disney brand, with phones able to be set only to call home and to be used as monitoring devices.
Failure to Connect
The decision to shut down the service comes as "a surprise to everyone," especially since it comes less than a year after the service went live, telecom analyst Jeff Kagan said.
"This raises lots of questions about the [MVNO] sector," Kagan added. "We are not sure whether it is a sector problem yet, or just an ESPN problem."
The basic premise behind the MVNO approach is still valid, he argued, especially when a brand has a strong and loyal following, as with ESPN.
The question the rest of the industry now needs to answer, he continued, is whether there's a systemic problem with the approach or "is it just what EPSN offered that failed to connect with their group of customers?"
ESPN had launched Mobile with partnerships from several major carriers and handset maker Sanyo, which made customized phones for the service. It also hired a third party, West Communications, to handle customer service for the phone plan. ESPN has not said how much it spent to establish the service.
The company did say that all subscribers would be given refunds for unused portions of their service and their handsets. The service is expected to wind down operations by the end of the year.
Cable Companies Watching?
In a letter on its Web site, Mobile ESPN suggested it was close to choosing a single partner to become its preferred carrier, saying it would "work to deliver our content experience through another nationwide carrier."
Research firm Strategy Analytics recently noted the lack of traction for many MVNO efforts to date, but said the Disney service may be among those that survives because of its unique value proposition as a family-friendly brand.
Overall, however, MVNOs were only ever likely to capture a fraction of the overall mobile consumer base anyway, because most such subscribers are interested primarily in coverage area, said JupiterResearch analyst Julie Ask.
ESPN's effort may have had some built-in advantages from the outset, according to Ask. First, it's not a pure entertainment play. It has a news and information hook associated to it, making it more compelling to its target audience. It also has the advantage of the entire ESPN empire — three major TV networks and a monthly magazine as well as a heavily trafficked Web site — on which it could hawk the service.
One group that may be especially unnerved by the MVNO pullback is cable companies, some of which have banked on using the approach as a way of offering the same bundle of services that telecom companies now starting to offer TV service can promise subscribers.