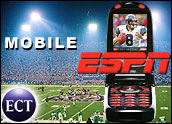 Over the years, Super Bowl Sunday has been the launching pad for countless products, services and companies. This year will be no exception. One of the most closely watched launches during the Big Game will come from inside the sports world, as ESPN Mobile goes live nationwide.
The service, first announced late last year and shown in limited previews at the Consumer Electronics Show in January, represents a complete re-branding of ESPN's hand-held efforts and its most ambitious attempts yet to extend its powerful sports brand to the mobile world.
ESPN Mobile will launch behind partnerships with every major wireless carrier in the United States and some overseas carriers as well. Sanyo-built ESPN phones will be available both online and in Best Buy stores, which will offer the handsets exclusively for 60 days after the high-profile launch.
"Mobile ESPN has defined a new wireless category, and with that, we are positioning the service and our marketing around the idea that life will never get in the way of sports again," said Manish Jha, senior vice president and general manager of ESPN Mobile. "This is more than a phone — it is like putting ESPN in your pocket."
The re-branding of ESPN Mobile — the sports network has made several earlier attempts to funnel its content to mobile users — may represent the latest crest of the leading wave of a variety of mobile content and give a glimpse into a future where the lines between content viewed on television, the Internet and mobile devices are all but erased.
Master of Their Domain
ESPN's latest push into the mobile field comes from a content powerhouse whose name is synonymous with sports programming and that has also become one of the top online destinations. With top-name reporters and columnists on ESPN.com only available to paying customers, the site already boasts thousands of paid subscribers for its premium content.
The model may be duplicated by others, with predictions plentiful that the mobile virtual network operator (MVNO) model may be adopted by others with a strong presence in media channels. The rise of MVNOs, which piggyback on existing wireless networks to deliver their content and services, may help accelerate the adoption of rich media content in the mobile world by creating specialized channels where consumers can turn to get exactly what they're looking for.
"I think branding is going to be key and this ESPN offering has a built-in customer base — all ESPN viewers and readers," telecom analyst Jeff Kagan told the E-Commerce Times. "So they have that universe of customers to start with. Now they have to develop the kind of content at the kind of price that the base will choose to access."
Whether that MVNO model will win out in the end is still to be seen, Kagan added.
"The providers will all experiment with content and pricing and ease of use in a variety of ways over the next few years as they find the best way to connect with the customer," he said. "The bottom line is you have to create this new area in the customer's mind. Then give the customers what they want, the way they want it, at the price they want to pay."
Hurdles Remain
Other challenges remain, including the relative usability of hand-held devices, which sometimes cause frustration among users trying to access remote data or the mobile Web, and the fact that networks are still being built to handle the multi-media content and fast data downloads that ESPN envisions.
For instance, its popular Web site feature of offering graphics-based depictions of in-progress games that are updated frequently — such as after each pitch in a baseball game or after each play in a football game — will require fast, reliable connections that aren't necessarily available in all markets.
ESPN notes that Sprint's faster network will be rolled out nearly everywhere in the U.S. by the end of 2006, suggesting it is also taking a longer-range view of the market that it's now attacking.
ESPN is also hoping that planning and foresight can help it avoid other perennial problems in the mobile industry. For instance, it has hired a third party, West Communications, to handle customer service issues, such as phone activation and customer complaints. ESPN said it would create a virtual ESPN office inside West's call center to ensure that customer concerns are addressed.
Poor customer service has long dogged the mobile industry and is seen as undermining efforts to get more people to pay for premium content such as streaming media or personalized services.
The experiment will be closely watched because the belief among many is that must-have content is the key to driving consumer adoption of mobile multi-media, Yankee Group analyst Michael Goodman told the E-Commerce Times.
"The market is going to be driven by content because most consumers won't buy technology just because it can do cool things," he said. In addition to offering access to exclusive content, the service must deliver what it promises or risk turning off consumers as well, he added.
Direct Access
The fact that ESPN will control the content distribution from end-to-end may enhance the user experience by cutting out the service provider middle man, which has dogged earlier attempts, such as efforts to push Web content to mobile devices through carriers. A more direct approach may be appealing, and carriers are no longer as concerned as they may have been in the past about being cut out of revenue loops.
ESPN has advantages in the form of serious brand clout and the advantage of having content that renews itself in real time. People want to know the scores as fast as they want to know stock prices.
While nearly everyone will still be watching the game on TV on Super Bowl Sunday, the day may be on the horizon when hand-held devices free even the football fanatic from the big screen.