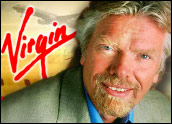 Virgin Mobile USA staged its long-anticipated initial public offering Thursday, raising more than US$400 million in the process, but investors gave the shares a fairly modest boost out of the gate.
Shares of the virtual network operator, which focuses on selling pay-as-you-go mobile services to a largely young audience, priced late Wednesday at $15, the bottom end of the previously announced price range of $15 to $17.
When they began trading mid-morning Thursday under the symbol "VM," the shares bumped up about 6 percent to $15.83.
Paying Down Debt
The debut came after Richard Branson, the billionaire founder of the Virgin brand, and other executives from the company rang the opening bell at the New York Stock Exchange Thursday morning.
Branson's Virgin Group and Sprint Nextel co-own Virgin Mobile USA. The company plans to use the proceeds to pay down a substantial portion of its debt, a move that will likely reduce Sprint's stake in the firm, it said.
Virgin re-sells time on the Sprint wireless network, with buyers ableto choose either monthly subscriptions without the long-term commitments other carriers require or to purchase pre-paid blocks of minutes.
Virtually Non-Existent
Virgin Mobile USA has been one of a small number of successful mobile virtual network operators (MVNO) in the United States, noted telecom analyst Jeff Kagan.
In fact, most earlier attempts to create such virtual carriers — even those with strong brand names — have fallen short. ESPN and Disney, for instance, both shuttered their MVNO experiments after short runs.
"Virgin Mobile seems to have found their niche in the youth market," Kagan told the E-Commerce Times.
The approach unlocks a sizable potential market because by giving millions of young people who lack the credit history to get long-term calling plans access to mobile phones. Increasingly, phones sold with the plans are coming with more features and capabilities, and monthly plans also can be bought to include texting and Web access.
However, investors may recognize that there is a limit to how much it can grow and how profitable it can be, given it has to pay for network access and because its monthly revenue from each user is relatively small, Kagan added.
The company also faces competition from rivals such as Boost, which also targets the un-credited youth market and more recently, major carriers such as AT&T and Verizon have begun to offer prepaid plans alongside annual contract options.
Red Ink
Other reasons investors may have been cool to the offering include the fact that Virgin Mobile has a relatively high churn rate, the pace at which it customers leave. While most carriers have churn rates of 2 percent or less, Virgin Mobile said in a recent Securities and Exchange Commission filing that its churn rate reached 4.8 percent in 2006.
The result was lower net subscription growth, with the company adding 729,000 new subscribers last year, around half as many as the year before.
Still, with more than $1 billion in revenue last year and a brand that's growing its presence in the U.S. — Branson recently launched a low-cost airline under the Virgin banner — Virgin Mobile USA is a formidable player in the wireless arena.
Longer-range, low-cost network operators may face increasing pressure to keep fees high enough, especially as the idea ofadvertising-supported calling services takes hold. Such a service, known as Blyk recently launched in the UK, and there is rampant speculation that Google will soon bring such a phone of its own to the U.S. market.
Another risk to the heavily branded MVNOs such as Virgin will be if major carriers begin to develop their own in-house brands offering prepaid services. Doing so would enable them to target the same demographic as the MVNO carriers, JupiterResearch analyst Julie Ask told the E-Commerce Times.
"People still choose carriers largely because of quality of network, and it's difficult for virtual carriers to differentiate there because it's not their network," Ask said.
That risk may be greater than it appears at first because most of the customers in the under 24 age market own phones on their parents plans and networks.
Meanwhile, 2007 has been a relatively paltry year for blockbuster initial public offerings in the tech space, with one notable exception being the spinoff of VMware from EMC.