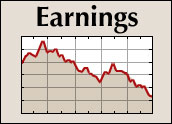 Sony Ericsson posted quarterly results that show it continues to gain market share against some competitors but is doing so at the expense of its bottom line.
The fourth-largest handset maker posted its first year-over-year profit drop in two years, saying third quarter net earnings fell 10 percent to 267 million euros (US$379 million). Revenue was up 6.7 percent to 3.1 billion euros ($4.4 billion).
Handset shipments rose 31 percent year-over-year, to 25.9 million units. The company estimated it gained 1 percent market share in the quarter.
A Needed Shift?
The earnings report is the first from the joint venture between Japan's Sony and Sweden's Ericsson since longtime President Miles Flint's unexpected September announcement that he would leave the company.
Sony Ericsson had been warning that its shift in strategy to embrace lower-cost handset models would be a drag on profits, but said the shift is needed to gain traction in emerging markets and to expand its customer base in all markets.
In the third quarter, the company generated "significant year-on-year volume growth with a portfolio of products spread across the widest variety of price points in the company's history," Flint said.
Mixing High and Low
Higher-end models remain a key part of the product strategy, Flint said, citing the company's recently launched new P1 smartphone and its W580 slider Walkman phone. It is also launching a high-end version of its Cybershot camera phone ahead of the holiday season.
"We are confident that the remainder of the year will see us further capitalize on this new broader portfolio," said Flint.
Flint is slated to hand over the reins of Sony Ericsson next month to Sony executive Hideki Komiyama, who comes from that company's consumer electronics business unit.
During his time at the company, Flint helped the joint venture leverage the Sony brand to roll out multifunction phones such as music phones based on Walkman technology and camera phones that integrate the popular Cybershot design.
More recently, Sony Ericsson began adding lower-cost phones to its portfolio. While that move may be well-timed as the market's growth shifts to new geographies, shipments were expected to rise even faster, Ovum analyst Martin Garner told the E-Commerce Times.
"After the very strong run of the last few quarters, this is a little disappointing," Garner said. Ovum had been expecting Sony Ericsson to move up in the market share rankings this year, though the prospect of that is now in doubt.
Faster growth could resume shortly, however, with the company promising a strong product lineup for the important fourth quarter. "Volumes and revenues should improve and profits may as well as the portfolio balances out," Garner added.
Risky Business
Sony Ericsson saw its market share rise to around 9 percent in the second quarter, up from less than 7 percent in the same time frame of 2006, according to data from Gartner. Those gains came largely at the expense of struggling No. 2 Motorola, whose market share fell from 22 percent to less than 15 percent. Samsung ranks third with 13 percent.
Sony Ericsson and other handset makers have seen Apple and Research In Motion, the maker of the BlackBerry, grab much of the high-end smart-phone growth in recent months, Gartner analyst Alan Brown told the E-Commerce Times.
"Sony Ericsson's portfolio at the high-end stacks up well, and now it is adding products that are doing well in Latin America and markets like Africa," Brown said. "It is dealing with the same balancing act as Motorola and others — trying to meet the demand for low-cost models in emerging markets without letting selling prices or profit margins drop too low."
The joint venture may be well positioned to walk that tightrope, and could continue to find ways to fold Sony consumer electronics hits into its phones. For instance, the company may seek to create a phone based on the Sony PlayStation Portable (PSP) gaming and video device, Flint said.