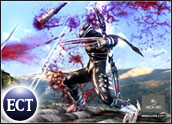 The economic wolf is at your door, but acid-spewing aliens are threatening you and your squad-mates on some desolate planet. Or it's the ninth frame and you are one strike down against an opponent whose bowling prowess is considerably better than President Obama's. So those worries about jobs and the banking industry will just have to wait, OK?
The same need for escapism that packed movie theaters during the Depression of the 1930s appears to keeping the video game industry thriving as the recession of the late 2000s drags on. Industry analysts NPD Group said Thursday that sales of gaming hardware and software jumped 9 percent in February, spurred by the usual suspects: anything Nintendo Wii-related and sequels to tried-and-true franchises like "Street Fighter" and "Killzone."
When you break it down by category, software sales spiked 14 percent during the month and consoles saw a 10 percent increase. That's nearly US$1.5 billion worth of revenue as consumers stage their own bailout of video game companies via their thumbs and wrists.
Nintendo Tightens Its (Wii) Grip
Nintendo, according to NPD, put more distance between itself and competitors Microsoft and Sony as the company sold 753,000 Wii consoles in February, compared to 391,000 Xbox 360s and 276,000 Playstation 3s.
"They're finally getting product into the market," ABI Research analyst Jason Blackwell told the E-Commerce Times. "There was a significant shortage of Wiis in the stores, but now you go to Costco or Wal-Mart and you see Wiis on the shelves, so now there's actual inventory."
Apart from that, Nintendo's gamble on a motion-sensing Wii remote that simplifies the gaming experience for a broader range of consumers continues to pay off at a time when the economy is forcing everyone to think very hard about how they want to spend their leisure dollars. "Parents can play it, kids can play it, it's a less time-consuming gaming experience. You don't have to invest a lot of time in learning a game and really getting involved in it. You can fire up the Wii and play bowling, tennis or whatever and you don't have to learn a lot of buttons and controls," Blackwell said.
Nintendo also had five of the top 10 games sold in February, including "Wii Fit," "Wii Play" and "Wii Mario Kart."
Present Prices, Downloadable Futures
A Sony game, "Killzone 2," was the top-selling game in February but it was the only bright spot for the consumer electronics company. While Wii and Xbox 360 sales rose year-over-year, PlayStation 3 sales dipped slightly. There are simply no cheat codes to get around the $399 price tag for the entry-level PS3 in a recession, Blackwell said.
"There are some added features for the PS3 with the Blu-ray player and some of the online features, but for some reason that hasn't seemed to resonate with the gaming community. It's a really good, advanced console and has all the technology you would think you would need, but they (Sony) have continued to struggle with the product."
One possible advantage for Sony, along with Microsoft, in this economy is the trend toward cheaper, downloadable games versus having to race to a GameStop or nearby mall to pick up a $60 game. Both Sony and Microsoft have active online stores, with Microsoft hitting new Xbox Live sales levels recently thanks to downloads of "Grand Theft Auto IV: The Lost and the Damned." The Wii has an online store as well, though it sells mostly older titles that first appeared on obsolete systems.
"It's a good way to either extend a title or offer expansion packs to a title without having to generate a physical disc and all the costs involved," Blackwell said. "If you've got all that storage and the broadband connection (in a console), why wouldn't you use that?"