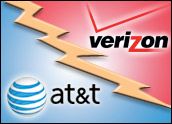 Verizon's earnings report released Tuesday shows the company still outpacing competitors. Verizon Communications reported its fourth-quarter profit was US$2.64 billion, up from $617 million in 2009. That's a rise from 22 cents per share to 93 cents per share. Although Q4 sales were up 5.7 percent from last year to $16.15 billion, overall revenue fell 2.6 percent to $26.39 billion.
Verizon Wireless added 955,000 net customers, including 872,000 retail post-paid customers during the quarter.
"Verizon ended 2010 with strong results, driven by solid execution across all our businesses," said Verizon Chairman and CEO Ivan Seidenberg in the company's earnings statement. "The fourth quarter capped a strong second half of the year, resulting in improved earnings, solid momentum and an even stronger balance sheet."
Also on Tuesday, Verizon's data plan for the iPhone came to light, though the details weren't exactly clear. Early in the day, The Wall Street Journal reported that COO Lowell McAdam said the iPhone would be made available with a $30 per month unlimited data plan. However, WSJ later updated its report, saying McAdam had qualified his original confirmation — the unlimited offer would be temporary.
In its earnings report presentation, Verizon said it would eventually move to a "pay for what you use" model for data.
Verizon did not respond to the E-Commerce Times' request for comments by press time.
Out of the Frying Pan?
AT&T no longer offers its $30 unlimited data plan for the iPhone; instead, it offers a $25 a month plan that's capped at 2 gigabytes. Verizon's new unlimited plan could be an incentive for AT&T customers to make the switch, assuming those who jump for the deal get a lock on the unlimited plan for the duration of their contracts.
With a flurry of AT&T customers jumping ship, Verizon will likely cement its position as king of the wireless realm. For how long, though, is the question.
Since the North American cellphone market is well saturated, many of Verizon's gains from the iPhone will have to come from AT&T customers who switch.
"Maybe they'll get back some of the customers they lost to AT&T because of the iPhone," William A. Stofega, program director, mobile device technology and trends at IDC, told the E-Commerce Times. "This is a replacement market. It's not a growth market any longer. It's not easy to be in the business these days."
Who's on First?
Verizon appears to have the upper hand on AT&T — at least, for now.
"With respect to the difference in data pricing between the two carriers, I think that Verizon's pricing of an unlimited plan for $30/month will do well with consumers," Greg Potter a research analyst at In-Stat, told the E-Commerce Times.
"With AT&T's 2 GB plan priced at $25/month for iPhones, Verizon is playing squarely at consumer's insecurities about data overage charges," he added. "I don't think that it will drive very much subscriber growth on its own though."
AT&T's reputation for bad reception will affect the battle with Verizon.
"Customers, having heard of all the network woes at AT&T, will be more enticed by Verizon's marketing about having a more reliable network," said Potter.
Ready or Not…
Many customers will find the unlimited plan attractive — there's a lot of data fun to be had on the iPhone.
"I think the $30 data plan is reasonable," said IDC's Stofega. "What they want to guard against is what happens when you get 10 percent of the users using 90 percent of the capacity. They're between a rock and a hard place."
The eventual move to a tiered data plan may be necessary due to stresses on Verizon's network.
"If the price is too high, people say they're just trying to make their profit on the data side. If it's too low, people will do everything on their iPhone," said Stofega. "So it's a balance, and we believe it's a decent balance. It's a great thing to have a topnotch product, but then you have to deal with the demands on the system."