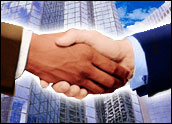 Verizon Wireless and Nextel Communications announced yesterday that they have agreed to dismiss their pending lawsuits against each other. As part of the settlement, Verizon will drop its opposition to a July ruling by the Federal Communications Commission that awarded a valuable radio-wave spectrum to Nextel. Nextel, in turn, agreed that it did not have exclusive rights to the phrase "push to talk" in marketing its walkie-talkie phone service.
Nextel's move to the prime 1.9 gigahertz band — worth nearly US$5 billion according to FCC estimates — paves the way for the company to offer next-generation services, including high-speed Internet, which could be a significant source of revenue.
Pending final approval, Nextel would give up its current airwave space — valued by the FCC at $1.6 billion — where its calls now interfere with police, fire, and private radio systems in a number of cities. It would pay $4.8 billion in its swap for the new spectrum license.
Accepting the Inevitable
Verizon began a campaign earlier this year against Nextel's taking control of the airwaves, arguing that any public spectrum should be acquired via auction. Verizon said the deal would amount to a private sale of valuable public resources.
Roger Entner, the Yankee Group's Director for Wireless Mobile U.S. Practice, told the E-Commerce Times that the two companies "finally saw the light."
"They've been fighting like a bunch of kids," he said. "Verizon realized the plan would get approved in the end, and that fighting would only make the lawyers rich. If you know what the outcome is going to be, why fight it?"
Entner dismissed industry speculation that the Government Accountability Office (GAO) might intervene in the spectrum swap.
"In the end, the FCC has very broad powers to assign airwaves for the good of the people," he said. "The GAO might be able to argue for more money, but I don't think it will make a difference. Public safety is the goal, and the FCC will do whatever it takes to achieve that."
Consolidation in Mind
The FCC may be taking the moral high ground with its concern for public safety, but Mark Cooper, Director of Research at the Consumer Federation of America, said Verizon's motives for settling are rooted in business strategy.
"We see this settlement as clearing the decks for the next round of consolidation in the wireless industry," he said. "Verizon is looking to buy up one of the other competitors, and they want to get these disputes out of the way first."
The companies are likely to focus on how to deal with a competitive landscape now dominated by Cingular Wireless, whose purchase of AT&T Wireless was approved last month.
The Consumer Federation of America has previously gone on record as opposing the merger of AT&T Wireless and Cingular, saying it "will have a devastating impact on consumers, who may have to pay more and may not receive the same level of service they currently enjoy. It also will gut the incentive for these companies to come out with new and innovative products and services."
Working with CTIA
In a joint release announcing the settlement yesterday, Nextel and Verizon agreed to work with the Cellular Telecommunications & Internet Association in lobbying against industry regulation and taxation.
At the same time, Nextel said it will drop its claim that Verizon Wireless and other competing wireless carriers have infringed on its trademark by using the phrases "Push to Talk," "PTT," and "PUSH" when promoting its walkie-talkie phone service. Companies other than Nextel will be free to use these phrases and variations of these phrases to market their services.