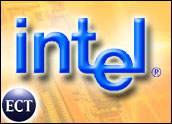 Intel, responding to market demand for ever-faster computers — and the recent introduction of new 64-bit processors from competitor AMD — plans to introduce a new Pentium 4 Extreme Edition (P4 EE) processor in mid-November. The P4 EE will be enabled by Intel's new 925XE Express chipset, which the company calls an extension of the 915/925X Express released earlier this year.
The P4 EE works by increasing data throughput, essentially improving communication between the CPU and system memory.
Platform Approach
It is "another example of the platform approach we're moving toward — bringing chipsets, processors and other components together to provide specific benefits to PC buyers," said Bill Siu, Intel Vice President and General Manager of the Desktop Platforms Group. The company expects a performance increase of up to 33 percent over older systems. The 3.46 GHz chipset will also feature High Definition Audio, DDR2 memory, and PCI Express capabilities.
"Speedwise, it's up there," said Martin Reynolds, Gartner VP, "although you can't really give it the performance crown."
Reynolds said the improvement in the processor is "like putting a new carburetor on an old engine, instead of replacing the engine itself. You're really just increasing the rate you can move things through."
Pricey Proposition
As always, performance does not come without a price, and the P4 EE's price of US$999 may well be an issue for some consumers. "It's very expensive," said Reynolds, "because it caters to enthusiasts, like PC gamers, who are always looking for the highest performance possible."
Another target market, he said, is the user "for whom computer time is money, video editors or computer designers, for instance. The chip can pay for itself in cases like that, because of the time it saves. And that can result in more billable hours."
Pushing New Features
Over the coming 18 months, Reynolds expects Intel to continue its concentration on additional features instead of increased clock speed. The reason, he said, is the Pentium chip's tendency to run hot. Increasing its speed results in the need for stronger or additional fans, which makes for noisier computers.
Despite that known issue, Reynolds said Intel, as the market leader, needs to keep "moving people down the path" of new technologies.
"To put things in perspective, Intel has 90 percent of market share in revenues, and AMD has most of the rest," he explained. "And the chip that sells for nearly $1000 today is likely to cost $150 in the next 12 to 15 months."
The company will ship the P4 EE to computer manufacturers and, in 1,000-unit quantities, to Intel-authorized distributors.
---

Click here for expanded coverage on Intel's P4 EE chip…
---