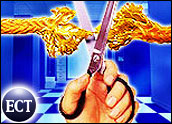 Computer maker Dell has terminated what was to be a long-term, US$16 billion parts contract with IBM. The move is a likely result of Big Blue's decision to exit some manufacturing businesses.
Dell also said that a separate partnership, which was initially seen as a $6 billion deal in which Dell would funnel customers seeking computer services to IBM, has fallen short of expectations. Nevertheless, the company added, it will continue to refer customers to IBM's offerings.
Both agreements were forged in the heat of the high-tech boom in 1999.
Another Time Gone Bye
IBM spokesperson Joe Stunkard told the E-Commerce Times that the parts deal's termination reflects a shift in IBM's business that occurred during 2002. The biggest change came when IBM sold its hard disk drive business to Hitachi for just over $2 billion.
"The agreement reflected the makeup of IBM at the time [it was] drafted," Stunkard said. Neither company disclosed how much of the total contract has been fulfilled to date.
Gartner analyst Thomas Bittman told the E-Commerce Times that IBM has been moving toward a services and software-oriented business model, so that some losses in business lines it has decided to move away from are not a surprise.
"I think this was all built into the equation as they made the decision on how to go forward," Bittman said. However, he noted, some of IBM's strategy shift has been affected by bad timing, as demand for services and consulting slipped sharply over the past two years.
The Replacement
IBM did not have to look far to find a cushion to soften the blow of dropping the Dell pact. Big Blue announced it has reached an agreement to take over computer operations for auto parts maker and Ford Motor Company spinoff Visteon.
That deal, which the companies said will be worth about $2 billion over 10 years, calls for IBM to provide a host of IT services, including data maintenance and customer support centers, disaster recovery provisions and application development.
In early trading Wednesday, shares of IBM were up fractionally to $77.50. Dell shares also were trading slightly higher at $23.10.
Waiting for Word
For Dell, the news comes on the eve of a management conference call with analysts in which the number two computer maker will detail its fourth-quarter earnings and its expectations for 2003.
Some analysts expect the company to tone down its forecast in the face of a continued economic slump and uncertainty over a possible war with Iraq.
Dell also is facing a publicity issue after the former star of its "Dude, yer gettin' a Dell" commercial campaign was arrested in New York City and charged with marijuana possession.
Benjamin Curtis, the 22-year-old actor who portrayed "Steven" in the ad campaign that ran for more than two years, is likely to have the charges dropped after a year, according to published reports. Dell replaced its "Dude" campaigns several months ago with ads featuring a group of interns working at Dell headquarters.