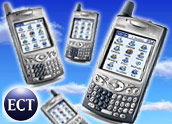 Hoping to spur wider use of mobile data services, especially among its key business customers, Verizon has rolled out support for a new high-end smartphone model and lowered the fees it charges enterprises to use hand-held devices to retrieve e-mail and perform other remote tasks.
Verizon said it would offer its NationalAccess plan for US$59.99 per month and its high-speed BroadbandAccess plan for $79.99 a month. Both give users the ability to access corporate networks to retrieve e-mail or to view data remotely.
The telecom giant said it would deploy Intellisync technology to enable synchronization of e-mail accounts, meeting calendars and contact lists from networks onto mobile devices. It also said it would roll out new data service pricing plans for the Blackberry e-mail device and other smartphones starting next week, with lower-priced options that give limited access on a monthly basis.
Treo 650 Support
At the same time, Verizon and palmOne announced that the Treo 650 is available for Verizon's network. The new smartphone sells for $399 if customers also buy a two-year contract. It costs $519 on its own.
While Verizon stands to gain business customer revenue from the partnership, analysts also saw a huge boost for palmOne, which has seen relatively slow uptake of some of its newest hand-held models by carriers. Some of the analysts have worried that mobile Web and data services would cannibalize or displace some voice revenue.
The moves are aimed squarely at businesses, but they suggest a future where data services are as widely used as voice services. Pricing has long been considered a hurdle to more expanded use of data services by businesses and consumers alike, but most analysts think fierce competition to provide broader menus of services will drive down costs considerably.
Coming Attractions
Verizon becomes the third U.S. carrier to offer support for the model, after Sprint and Cingular.
The latest Verizon moves might also be a glimpse into the future that it envisions for itself if and when it completes the acquisition of MCI Communications. Verizon has won the right to buy that company, which has a solid foothold in the corporate communications field.
Business users are seen as a key ingredient for long-term viability of independent telecommunications companies, as corporate users are typically less price-sensitive, less likely to "churn" or change carriers on a whim and therefore more profitable.
Gaining thousands of those types of customers was a major driver in Verizon's bidding war with Qwest for the right to buy MCI
Ripple Effect
"You can look at Verizon and see the changes that are reshaping the industry," independent telecom analyst Jeff Kagan told the E-Commerce Times. "It's quickly becoming a full-service communications company that offers every type of communication service."
Kagan and other analysts say business use of mobile data services is rapidly growing, but that some enterprises remain concerned about standards and about having to invest in an entire shadow network set aside for mobile users.
"The more the carriers and the rest of the industry, including handset makers, can do to bring down the price and make devices that work with what's already running inside the firewall, the more quickly mobile use will grow in corporations," Gartner analyst Ben Wood said.
Meanwhile, most analysts believe there's little doubt that the industry is marching toward a time when consumers use hand-held devices, especially smartphones, to access and purchase a range of mobile services, from streaming music to enhanced e-mail and instant messaging.