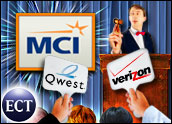 Saying some corporate customers don't want it to merge with Qwest Communications, MCI has again agreed to be acquired by Verizon Communications after that firm made a sweetened offer, raising its price to US$26 per share and possibly putting an end to a lengthy bidding war with Qwest over the last major independent long-distance company.
The new Verizon bid, which came Friday just as a deadline approached to respond to an earlier raised bid from Qwest, values MCI at about $8.5 billion, which is still well over $1 billion below the $9.85 billion price tag put on the last Qwest bid.
The higher per-share price includes more upfront cash than in past offers, with shareholders slated to receive $5.60 in cash in addition to Verizon stock.
Customers Uneasy
MCI's board of directors said in a statement released today that it had found the new Verizon offer superior to the last bid from Qwest, citing a range of reasons but focusing largely on the fact that they believe that a combined Verizon/MCI is a stronger company over the long-run than a Qwest/MCI combination. It also raised for the first time the possibility of customers leaving should it go with Qwest as a merger partner.
MCI's directors have now voted three times in favor of a merger with Verizon, dating back to the first news of the merger on Feb. 14. The choice of the Verizon bid is a reversal of an April 23 vote to recommend Qwest's latest $30 per-share offer.
MCI's board also said in a statement that some of its "most important business customers had indicated that they prefer a transaction between MCI and Verizon," with some going as far as to seek the right to terminate their MCI contracts should it merge with Qwest.
"From the standpoint of risk versus reward, Verizon's revised offer presents MCI with a stronger, superior choice," MCI Chairman Nicholas Katzenbach said.
The sentiment among corporate customers is critical, because access to business accounts is seen as the major driver behind the desire to acquire MCI. That's seen as particularly true for Qwest, which has less of an established customer base than the much larger Verizon. MCI's massive fiber-optic network for sending data and voice worldwide is also seen as a major prize for the victor.
End of the Line?
It was not immediately clear whether Qwest would attempt yet another counter-bid. That company, which is slated to announce first-quarter earnings tomorrow, did not immediately respond to the latest developments.
MCI is likely to be eager to end the drama, a fact underscored by its reference to the desires of business customers to have some certainty brought to bear. However, much of that decision might be out of the board's hands. Some shareholders have clamored for the company to take the higher offer, though some — including the largest private stock holder, Mexican businessman Carlos Slim — have already agreed to sell their shares to Verizon.
Some institutional investors are said to be offering to help bankroll Qwest's takeover attempts if it will again raise the ante.
Independent telecom analyst Jeff Kagan told the E-Commerce Times that MCI has done what investors wanted — by stringing out the process, it has added nearly $2 billion to the bottom line of the lower offer now on the table.
"There comes a point where the uncertainty starts to affect business, however," Kagan said. In fact, MCI has been losing customers for some time, making it likely that the higher offers are being made on a company that is losing value at least in terms of current revenue and profits, he noted.
End in Sight?
Kagan noted that conventional wisdom was that the merger was a done deal before Qwest raised its bid. That move shows that Qwest "wants MCI badly" and is "willing to do what it takes to win."
Others back that idea, describing the need for Qwest to acquire MCI as all but do or die, given Qwest's own status as a largely regional carrier with little national presence among business clients. Today, the Wall Street Journal reported that federal regulators were looking into insider stock-trading patterns around the time of Qwest's entry into the bidding for MCI.
The bidding war clearly has taken a toll on Qwest, whose shares are more than a dollar, or about 15 percent, below where they were when it first countered Verizon's initial offer. Qwest shares fell another 1.75 percent today to $3.36. MCI shares were down less than 1 percent to $26.31 and Verizon stock rose slightly to $35.84.
While MCI might be eager to put the acquisition to rest — and in doing so end a long saga that began when then-WorldCom filed for bankruptcy amid a massive accounting scandal — a potential shareholder battle might still loom. Some big stakeholders are likely to hold out for the offer that gives them the most cash up front, rather than assuming a longer-range benefit in the form of rising Verizon share prices, analysts say.
Whatever happens, Kagan believes the merger will alter the telecom landscape regardless of which way MCI eventually goes. "It's a very interesting merger with a lot of implications going forward," he added.