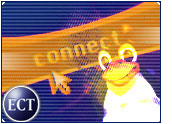 VA Linux Systems (Nasdaq: LNUX) fell US$1.59 to $5.66 in morning trading Wednesday, after the software makerreported a loss for the fiscal second quarter and announced a plannedrestructuring — including approximately 139 job cuts and a charge to third-quarter results.
Chief executive officer Larry Augustin blamed the weak results on "theoverall economic slowdown," which he said hurt demand for products andservices.
As a result, the company said it will cut its 556-person workforce by 25percent, taking a restructuring charge in the third quarter. The amount ofthe charge has yet to be determined.
The Fremont, California-based maker of so-called "open source" software saidrevenue for the quarter ended January 27th rose 111 percent from a year earlier to $42.5 million.
However, the loss before non-cash and non-recurring charges widened to 28cents per share from 20 cents. The company posted a net loss of $74.15million, or $1.57 per share, compared with a loss of $11.56 million, or 50cents, a year earlier.
VA Linux also said it established reserves of $14 million for excessinventory and $2.5 million for bad accounts.
"The effect of the restructuring will be to position the company to achieveprofitability at lower revenue levels," Augustin said.
Augustin, however, was optimistic about the company's prospects.
"We believethat the overall slowdown in IT spending will ultimately create more demandfor open source technologies among enterprise customers as they tightentheir IT budgets," Augustin said. "Our leadership in Linux and open sourcepositions us to benefit from the adoption of those technologies by largecorporations."