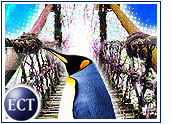 VA Linux Systems (Nasdaq: LNUX) fell 6U.S. cents to $2.97 in early trading Friday, after saying that revenue for the third quarter ending April28th will be lower than previously thought.
"While we are seeing some signs that demand is improving for our consultingservices and open source development network, the slowdown in customer(information technology) purchasing continues to impact systems sales," saidchief executive officer Larry Augustin.
The Fremont, California-based maker of open-source software saidthat revenue for the quarter will likely total $18 million to $20 million.Earlier company guidance had been for revenue of below $30 million.
The company also said it expects a loss before non-cash and other charges of39 to 41 cents per share.
In February, VA Linux announced plans to cut 25 percent ofits 556-person workforce in response to the drop in demand brought on by aslowing economy. The company has now reiterated its plan to take an undisclosed charge to results for thequarter ending this month to cover the costs.
"We are progressing towards our previously stated staffing and spendingreduction goals," Augustin said. "These steps and our strong cash positionwill allow us to weather the current cycle, so we can capitalize onincreasing demand for Linux … as the economy improves."
VA Linux reported revenue of $42.5 million and a loss before special chargesof 28 cents per share for the second quarter ended January 27th. The companyposted a net loss of $74.15 million, or $1.57 per share.
VA Linux plans to report third-quarter results after the close of trading onMay 22nd.