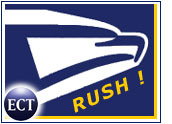 The U.S. Postal Service is thinking of curtailing deliveries. Postmaster General John Potter asked Congress on Wednesday to allow the postal service to go to a five-day delivery week in an effort to cut costs and bring ballooning operating deficits under control.
USPS has been hit hard by the rise of e-mail, which has dramatically decreased the number of letters and parcels handled by the post office.
Mail volume in the fiscal year ended Sept. 30, 2008, declined 4.7 percent to 202 billion pieces of mail. The postal service reported a US$2.8 billion loss from operations and $7.2 billion in debt at the end of the fiscal year.
Should the postal service get permission from lawmakers to go to a five-day delivery week, it's not clear what effect that could have on e-commerce companies that depend on the service to deliver millions of packages of merchandise to consumers each year.
E-Commerce stocks such as Amazon.com, Drugstore.com and eBay seemed largely unaffected by the news of a potential decrease in postal service.
"We work with a number of different carriers to deliver products to our customers," Amazon.com spokesperson Patty Smith told the E-Commerce Times. "We can't speculate about what might or might not happen in the future."
Consumer May Suffer
If e-commerce companies have to use more expensive mail services such as UPS or FedEx, customers could find themselves paying higher prices for merchandise bought over the Internet.
"The cost would be passed onto the consumer," said Mark Argento, senior equity analyst at Craig-Hallum Capital Group.
More Vulnerable Players
One e-commerce player in particular could be more vulnerable to a reduction in delivery days — online DVD rental company Netflix.
"They use the USPS, and that's their prime source of moving items," Argento said. "[Netflix] will be the most interesting dynamic to play out here."
Drugstore.com, however, is a different story.
"[Its] business is almost a replenishment-type business," Argento said. "People rely on Drugstore.com for essential personal care items. It's like clockwork. Every few weeks or months, people need new toothbrushes, hairspray and prescription drugs. The reality is I don't think their business would be impacted a whole lot."
Congressional Authorization Unlikely
Given the year-long U.S. recession and the effect it's had on commerce, Argento is doubtful that Congress will authorize the postal service to go to a five-day delivery week.
"E-commerce is just too vital to see a day a week of lost productivity in shipping," he said. "I don't think [President Barack] Obama, in particular, wants to see the postal service be impeded on his watch. He's a big government guy."