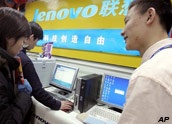 Even as IBM distances itself from the personal computer industry — citing foreign competition as a reason — and others might be prepared to follow suit, private U.S. investors have stepped forward to bankroll the Chinese company taking over Big Blue's PC wing.
A group of private investors announced it has agreed to buy a 12 percent stake in Lenovo Group, paying US$350 million that the Chinese company will use to bankroll its $1.25 billion purchase of IBM's PC unit.
Turnaround Project
The investors include Texas Pacific Fund, which will pony up $200 million, General Atlantic Partners, which is buying a $100 million stake, and Newbridge Capital, which has promised to invest $50 million.
The investments are seen as a bet that Lenovo can use its Chinese roots to compete effectively in the PC market and gain market share going forward, despite the presence of fast-growing powerhouse Dell and long-range projections that the PC market might cool in coming years.
However, Lenovo gains important allies as well and signaled that it would look to its new investors to help provide strategic guidance and advice on how to turn around the image of Big Blue's PC unit.
Texas Pacific, the lead investor, in the past has bought stakes in companies such as Continental Airlines and Burger King, which had strong brand images but were struggling with execution. The IBM unit — Lenovo bought the rights to use the brand name for at least five years — is a turnaround project from an operational viewpoint, having lost nearly $1 billion in a three-year span starting in 2001.
Private Parts
Lenovo CEO Yuanqing Yang, who will give way to an IBM-chosen executive when the deal closes, called the investment "a strong vote of confidence in Lenovo's prospects going forward." He also said the firms would be allies as the company seeks to position itself to enter the U.S. market on the strength of its Big Blue buy.
The new investors will hold a slightly smaller stake than IBM, which is keeping about 13 percent ownership of the merged firm.
The private equity firms' investment might raise eyebrows in many quarters because such firms are generally considered shrewd players, willing to take risks in exchange for likely payouts, but wont to take fliers on risky ventures.
Still, the move by IBM was seen as something of an acknowledgement that the PC business was shifting to overseas companies that could take advantage of cost savings and also were in a better position to seize current and future growth opportunities in emerging economies such as China.
"The industry is changing fundamentally and companies and investors are reacting to that in different ways," Gartner analyst Leslie Fiering told the E-Commerce Times. "Vendors that can optimize their cost structures and supply chains to remain profitable will be the ones that emerge ahead in three to five years."
Such execution will be especially important in coming years as the recent growth in PC sales starts to slow, especially in mature markets such as North America and Europe. A company that can be flexible enough to take advantage of market opportunities as they evolve will be in a strong position, especially if other large PC makers exit the industry.
Gartner has predicted that two more of the top 10 makers of computers will exit the space within three years.
From China to the World
In a statement, Texas Pacific managing partner James G. Coulter hinted where his firm believes the merged PC company should focus its attention going forward, saying the combined company will have "a strong global presence, leading technology and the best mobile product in the world in the ThinkPad."
He added that Lenovo, which will be the third-largest PC maker after the merger, is already the leading producer of computers in China, "the fastest growing PC market in the world."
Lenovo, meanwhile, is navigating a rare path and might want the help of U.S.-based firms to avoid missteps. Few companies have leveraged market dominance in China to become worldwide brands, said Coulter, who predicted that others would follow Lenovo's lead as the Chinese economy continues to grow and produce more formidable companies.