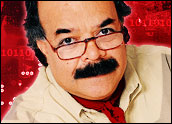 The name IBM is the world's most distinct and valuable corporate identity. Its three letters, parked in this unique random arrangement, are worth many billions of dollars. Meanwhile, Lenovo of China is the new owner of IBM PC and will also use the IBM name for the next five years, while IBM will use its identity for higher-end technology and consulting services. How will all this work?
Currently, IBM's corporate identity is more aligned with high-end technology and enterprise solutions, including blue chip consulting services, in contrast to just generic PC hardware.
This sharing of corporate names now raises three serious questions:
Will the simultaneous use of the same name in two separate areas create confusion?
Will the identity of Lenovo be eclipsed by IBM's name and will it take away its strength to stand alone five years later?
Will the two separate masters of the same brand name sing in total harmony?
Lenovo will start using the name IBM and after 18 months will add Lenovo to the brand, dropping IBM after five years. The deal will also allow Lenovo to use IBM's famous "Think" brand.
Trapped by Master Branding
Master branding, simply put, is a false sense of branding where all of the various corporate goods and services, as well as the rest of the paraphernalia, is parked under one huge tent of a single corporate identity. This approach rarely works as most big corporations have more than one marketing message.
This overbundling of messages can sometimes split the perceptions in the marketplace. Customers at large are very fickle, but despite customers' confusion, corporations often practice this "everything under one master tent" dilemma.
For example, Xerox, at the height of its fame and glory, was so powerful and successful in copiers that its entry into computers failed, simply due to its projected perceptions. Customers couldn't believe how such a successful company in copiers could also make computers so successfully. Some $750 million later, Xerox packed up the computer division.
Would FedEx be able to bifurcate the perception of it in order to operate other businesses? A FedEx airline, maybe, but not FedEx cola. Neither would you care to fly a Coca-Cola Airline. The fear of Coke leaking all over the cockpit is enough to scare the customers.
Somehow, we do get trapped in a series of perceptions, and once set, they are very hard to change.
Big-time technology with consulting, and selling rock-bottom PC hardware, are two separate and two very distinct selling propositions. The identity of Lenovo will greatly enjoy the glittering IBM wrapper. It will give Lenovo a great boost.
As the brand IBM PC gets a stronger hold in this fiercely competitive market, the visibility of the IBM PC name could come to the top and dominate the global PC marketplace; let's call it the China Syndrome. This will make it very difficult for Lenovo when it comes time for a departing hug and a goodbye kiss after five years of romance.
Names once set in consumers' minds can't be changed by a serious corporate memo or by placing a series of fancy, full-page global ads. Five years later, Lenovo will have to start a long and hard climb once again.
IBM, a Made-in-China Company?
When a brand serves two different masters, it might also end up with two faces. Here in reality, two separate corporate entities under master guidelines and working plans will be using the same IBM name, while the customers stuck in the daily toil at large will hardly know the background or the difference.
The branding images of an aggressive IBM PC on one side, and on the other, branding images of high-end IBM's big-technology solutions with consulting are bound to sing two very different tunes. Would this cause some confusion and alter some perception over these long five years? Is there is a risk for IBM to be globally recognized as a made-in-China company, at least by the users of all those PCs? Would IBM be better off just to sell the division without the name?
A while ago, IBM made another deal with a great contemporary nerd — now recently knighted William Gates, of Microsoft, the richest man in the world on the Forbes 400 list — that proves it is all in the deal.
The building of a corporate identity and establishing the perception of that name in the mind of the populace is a very well defined science and should not be confused with design and logo branding. Names are the true deliverer of the message, and they simply park and occupy our subconscious, creating strong perceptions and ideas that directly lead us to buying decisions.
The rules of naming and corporate name identity are very tough to apply, but then again, to have a one-of-a-kind, unique global corporate identity is also the most desired goal of any corporation in the world. One master, one name, one message is always the best.
---
Naseem Javed
, author of
Naming for Power
and also
Domain Wars
, is recognized as a world authority on global nameidentities and domain issues. Javed founded ABC Namebank, aconsultancy he established a quarter century ago, and conducts executiveworkshops on image and name identity issues. Contact him at
[email protected]
.
---