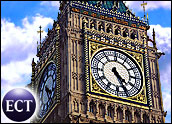 At least one UK-based telecommunications firms may be on the verge of launching a free broadband product, offering high-speed Internet access as a free service that comes with telephone service.
The yet-to-be-announced services would be a new twist in what is shaping up to be a long and hard fought war to deliver a growing bundle of telecommunications and entertainment services.
Unlimited Access
Published reports said Carphone Warehouse would announce as soon as Tuesday that it would offer free broadband Internet access for customers who subscribe to its voice calling services, which are sold under the Talk Talk brand and include free unlimited calling.
Subsequent reports said both BSkyB, also known as Sky TV, and Virgin's cable unit were weighing similar plans to roll out free or ultra low-cost broadband.
The services would be aimed at converting the last large groups of dial-up users onto higher-speed access options. The strategy is that high-speed access will lead these consumers to other high-end services that will be delivered over those faster pipelines to the Web, such as downloadable video, interactive gaming and at-home interactive shopping services, to name a few.
Carphone Warehouse has acknowledged that it is preparing to announce a major broadband initiative this week, but has given no details. Speculation about the move was fueled by a Merrill Lynch research note that said in part: "We think free broadband is on the way, pioneered by Carphone [Warehouse]."
The Reluctant Few
Despite consistent double-digit growth in both the U.S. and UK markets that has greatly reduced the number of dial-up users, many price-conscious consumers have clung to dial-up connections.
Having slower Web access all but cuts off those consumers to a wide range of digital services, with data-heavy activities such as downloading music — and, especially, video — all but off limits.
In the U.S., broadband penetration sped past the 50 percent mark by mid-2004, according to Nielsen//NetRatings. While slower growth rates have taken hold — the number of holdouts has now shrunk to just over 30 percent — Nielsen says some 95.5 million Americans are connected through high-speed Internet access points.
Broadband users are far more likely to be satisfied with their online experiences, as well, Nielsen//NetRatings Senior Director of Media Jon Gibs told the E-Commerce Times, which is helping drive the amount of time those users spend online higher.
"The always-on nature of a broadband connection allows the Internet to become more entrenched in consumers' lives," Gibs said.
The broadband usage spike also helped make video sites such as those from Yahoo, MSN and Google, among the fastest-growing on the Web, he added.
Jockeying for Position
Carphone Warehouse, an independent mobile retailer that has rapidly expanded its menu of telecoms services, has gained traction by bundling mobile and fixed-line telephone services.
If the approach has a ripple effect, with others joining the free or nearly free broadband push, it may force telecommunications companies to seek new approaches to finding revenue and profits from their broadband customers.
That move is already afoot, with network owners increasingly eager to partner up with content owners to deliver more services to end users, who will likely have a choice of where to buy their bundles of calling and entertainment services.
"Telecommunications companies always worry about cannibalizing their own revenue streams with lower priced alternatives," telecom analyst Jeff Kagan told the E-Commerce Times. "Consumers will decide on more than just price, however."
The free broadband gamut would coincide with the recent creation of what is being billed as the first quadruple-threat telecom provider, with the Virgin brand soon to offer mobile, fixed-line, high-speed Internet and TV service from a single source.