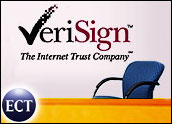 VeriSign on Monday declared its entrance into the broadband content services market, announcing its US$62 million acquisition of Sunnyvale, Calif.-based Kontiki to help establish its presence in the field.
VeriSign plans to provide rich digital media over IP networks and has signed a definitive agreement to acquire Kontiki, a provider of managed peer delivery systems for high-quality video, software and digital content, to help launch its new services.
"In today's 'any era' where consumers are driving demand for how, when and where content gets delivered, VeriSign is investing in building an intelligent infrastructure for operators, Internet portals, media companies and consumer brands to use to deliver content to all three screens," said Vernon Irvin, executive vice president and general manager, VeriSign Communications Services.
Immediate Market Entrance
The Kontiki acquisition allows VeriSign to immediately enter the broadband content market, Irvin said, so it can help carriers and others compete in today's digital world.
Kontiki's system will form the cornerstone of VeriSign's Broadband Content Services platform to allow content providers to deliver rich media over broadband networks to personal computers, television sets and portable devices.
The broadband delivery capabilities complement VeriSign's Mobile Content Services infrastructure and expand the company's Content Services portfolio, according to analysts.
"Many of VeriSign's businesses center on providing infrastructure around the Internet and around telecom," Stifel Nicolaus analyst Todd Weller told the E-Commerce Times. "This acquisition makes sense because it is an infrastructure play and fits in with its mobile content strategy."
The Mobile Content Strategy
VeriSign purchased wireless content service provider Jamba in May 2004 for $273 million in cash, which surprised many analysts because the company is one that offers a consumer facing product rather than infrastructure technology. VeriSign at that time said it planned to tap into Jamba's content mediation platform.
"VeriSign is trying to reposition the Jamba business away from the direct to consumer model to become an enabler that provides some of the infrastructure or plumbing for mobile content," Weller said.
With more digital content being delivered to PCs over broadband, Weller noted, there is an opportunity for VeriSign in the space. Whether or not it becomes a material business remains to be seen.
Understanding Kontiki
Kontiki's platform, which supports legal distribution of rich digital media over IP networks, is being used by Internet portals, broadcasters and Fortune 500 companies, like AOL, BSkyB and Verizon (NYSE: V).
The technology affords economic advantages to customers that want to securely distribute DVD and HD quality video using a system that protects content owner and distributor rights, VeriSign said. VeriSign itself uses the technology to deliver company meeting videos to its employees.
The $62 million transaction is being accounted for as a purchase transaction and is expected to close in the first quarter of 2006. The financial impact of the transaction will be disclosed following the closing. VeriSign also said Monday that it has completed the acquisition of 3united Mobile Solutions, for which it paid 55 million Euros (US$66 million).