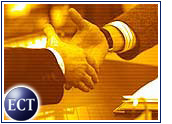 Business-to-consumer (B2C) auction site uBid said Monday it has forged an alliance with cash-giveaway portal iWon.com.
The partnership will give uBid access to millions of Internet users via one of the Web's most trafficked sites. According to Nielsen//NetRatings, iWon was the fifth most visited U.S. site on the Internet this January.
uBid recently announced similar agreements to provide auctions for About.com and AltaVista, both among the top 20 most-visited Web sites.
Under the deal, uBid will create a co-branded auction site that will enable visitors to the iWon portal to bid on items on uBid's main site.
Spread the Wealth
"The relationship with iWon underscores our ability to fulfill needs for other businesses to offer competitive, full-service auction capabilities," uBid president and chief executive officer Greg Jones said.
uBid has only recently attempted to become a player in the consumer-to-consumer auctions that make up the bulk of the business for leading auction site eBay.
uBid is now a wholly owned subsidiary of CMGI. Andover, Massachusetts-based CMGI paid about US$400 million for the auction site in February 2000.
No Real Threat
Despite the new traffic uBid will gain from the deal, Morningstar.com analyst David Kathman believes uBid is no immediate threat to eBay.
"eBay's much bigger customer base is a built-in advantage for an auction site — all the buyers go there because that's where the sellers are, and all the sellers go there because that's where the buyers are," Kathman told the E-Commerce Times.
Kathman added that eBay also has an advantage when it comes to turning a profit, because uBid actually buys merchandise from suppliers and holds it before selling it at auction, while eBay "never handles the merchandise itself." The result is 80 percent gross profit margins for eBay and 10 percent for uBid.
Additionally, uBid is not immune to the sort of offline drama that has affected eBay. Last year, uBid was sued by a group of customers who said that the auction house canceled winning bids on computer equipment at the last minute.
uBid for eBay?
In December, published reports suggested that eBay was considering buying uBid. Those reports were quickly denied by eBay, which has since expanded its geographical reach by buying auction sites in Europe and Asia.
While uBid initially focused on B2C and business-to-business (B2B) auctions, it launched a consumer-to-consumer product, called Auction Exchange, last year, setting up direct competition with eBay for the first time.
However, Kathman said an eBay-uBid alliance is unlikely.
"I can't imagine eBay actually buying uBid — it would drag down their margins," the analyst said. "I don't see any obvious benefits."