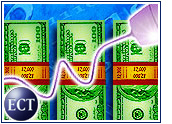 E-commerce posted strong double-digit growth in the second quarter, bringing in US$12.477 billion total in the United States, according to the U.S. Census Bureau. The bureau, which tracks e-commerce for the U.S. Department of Commerce, said sales rose 27.8 percent from the second quarter of 2002. By comparison, overall retail sales grew less than 5 percent.
As in the first quarter, online sales made up 1.5 percent of overall retail purchases.
The latest online sales figure shows the second quarter was the busiest non-holiday period for e-commerce since the Census Bureau began tracking online purchases in 1999, and the second-best quarter behind the last three months of 2002, when e-commerce spending totaled $13.77 billion.
Steady and Ready
Online sales tracked by the U.S. government, which does not count travel sales and some other services, have posted double-digit growth every quarter since tracking began, with growth ranging as high as 71 percent in the fourth quarter of 2001 and as low as 11 percent in the third quarter of 2001.
"E-commerce has posted the same growth levels despite major fluctuations in the overall retail economy," Department of Commerce spokesperson Carol King told the E-Commerce Times. "It's been very steady."
The second quarter came on the heels of a first quarter that also set a record, with sales coming in at $11.921 billion, an increase of just under 26 percent from the year before and — until now — the highest-ever level for a non-holiday season.
Rising Tide
Nielsen//NetRatings director and senior analyst Robert Leathern said e-commerce has benefited from adoption of broadband Internet access and other trends. With 60 percent more Americans on broadband than a year ago, consumers are more primed to shop and buy.
"The always-on nature of broadband access means more use of the Web for everyday shopping and information-gathering needs," Leathern said.
Despite robust growth, challenges remain, he added. For example, although much attention is being paid to aligning multiple shopping channels, some leading retailers, including Wal-Mart, Target and Home Depot, still appear to be struggling to find the best way to smoothly shift shoppers between online and offline shopping channels.
Power Surge
A reminder of the e-commerce economy's immaturity and vulnerability came late Wednesday, when eBay, one of the primary engines driving the online sales world, shut down for about three hours.
The auction giant said the crash was due to a power failure that hit a hosting facility run by Qwest Communications. The downtime marked the first major outage for eBay since it completed a major overhaul of its Web hosting services designed to keep downtime to a minimum.