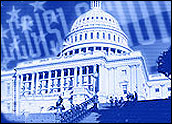 U.S. lawmakers are considering the launch of a federally funded e-commerce pilot program designed to helpsmall and mid-sized manufacturers take their businesses online.
The Electronic Commerce Enhancement Act, if passed, willrequire the National Institute of Standards and Technology (NIST) to establish anadvisory panel to do an "immediate needs" assessment on the e-commercechallenges facing small and mid-sized manufacturers.
Members of theadvisory panel would include the U.S. Chamber of Commerce and the SmallBusiness Administration.
"This legislation ensures that no business will be left behind, especiallyAmerica's small and medium sized-businesses, which are the backbone of oureconomy and the realization of the American dream for so many," said Rep. James Barcia (D-Michigan).
Money, Training
The new proposal would create a network of centers across the U.S. that offertechnical expertise, training and guidance to small and mid-sizedmanufacturers.
Competitive grants would be awarded to those regional NISTcenters who are best able to develop solutions that address the problemsfacing businesses in their specific region of the country.
"I developed this legislation after hosting an electronic commerce forum inmy district," Barcia said. "With more than 300 businesses in attendance, it was obvious to me that while there is great interest in going online, these businesses facea number of challenges as they enter the world of e-commerce."
The congressman has referred the proposed law to the House Committee of Science.
Left Behind?
Depending on how "small business" is defined, several reports have indicated that small businesses have been slow to adopt e-commerce. CyberDialogue for example, reported last spring that less than 35 percent of smallbusinesses rated the Internet as a major resource for either buying orselling goods and services.
Most small business Web sites are brochure sites: static pages that explainservices, list products and offer contact information. It takes an enormous amount of capital, time and focus for small businesses to move beyonda Web site that functions as a brochure and into e-commerce transactions.
Small Biz To Boom
However, a recent report from IDC did say that e-commerce-related revenue driven by small business is expected to grow fromUS$21 billion in 1999 to $110 billion by 2003.
While some 20 millionsmall and home-based businesses are not online today, four out of five willhave Web sites by 2004, IDC predicted.
Electric Challenge
A major focus of the study proposed by Barcia will be on business-to-business (B2B) e-commerce, as well as the technologicalchallenges facing small businesses in the areas of electronic authenticationtechnologies, electronic security and interoperability issues.
Specifically, the panel will be asked to help determine standards for theelectronic linkage of manufacturers, assemblers and suppliers in productsupply chains.
"Business-to-business transactions between small and medium-sizedmanufacturers and other such businesses and their suppliers is rapidlygrowing, as many of these businesses begin to use Internet connections forsupply-chain management, after-sales support, and payments," the proposed law says.