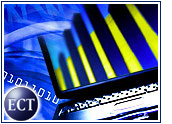 Small businesses in the United States are now more likely to use the Internet for advertising and promotion than for selling their products and services online, a survey released Wednesday found.
The report from SuperPages.com and Gallup disclosed that the number of small businesses using the Web for marketing purposes more than doubled since 1999, while the number using the Internet for direct e-commerce dropped by 48 percent.
Patrick Marshall, a vice president at Verizon Information Services, which owns SuperPages, said the result is not surprising considering how shoppers use the Internet.
"Research shows that many consumers use the Internet to window shop," Marshall said. "So while transactional e-commerce may not be right for all small businesses, even the most local business can benefit from establishing a Web site to promote their products and services."
Net Promotion on Rise
The report, based on a Gallup Poll survey of 800 businesses in the U.S. with 50 or fewer employees, revealed that 21 percent of small businesses now use the Web to advertise, up from 8 percent last year. Meanwhile, 13 percent use the Internet to sell products, down from 25 percent a year ago.
Businesses also said the Web is a cost-effective way to market their products and services. Fifty-five percent said their sites have broken even or paid for themselves by attracting more customers, and 48 percent said their sites met or exceeded expectations.
Ease of use also was a common theme, with 57 percent of online small businesses saying their presence was "easy" to create.
Notably, small businesses with a Web site are enthusiastic about the future impact of the Internet on their business. Sixty-five percent describe the Internet as important to the future of their business, rating its importance 7 or higher on a scale of 1 to 10.
Expanding Range
One benefit of Web as an advertising platform is the ability to reach distant customers. Nearly half the businesses with Web sites said they attract customers from more than 50 miles away, while the same was true of only 20 percent of businesses not online.
"Small businesses without a Web site may be at a disadvantage compared to their competitors who are online," said Marshall. Advances in software that make it easier and less expensive for businesses to move onto the Web should drive more small companies into e-commerce and online advertising, he added.
The Small Biz Mystery
Small business has been something of a mystery when it comes to e-commerce. Several high-profile efforts have been launched to lure some of the 20 million small U.S. businesses onto the Web, with America Online (Nasdaq: AOL) and Netscape unveiling small business portals earlier this fall.
However, studies have shown that owners of small enterprises are still not convinced that the Web will change the way they do business. A report over the summer from the National Small Business Union and consulting firm Arthur Andersen found that more than 40 percent said e-commerce will have no impact on their business.
More recently, Gartner reported in October that half of all small and mid-sized companies could fall victim to cybercrime in the next three years due a lack of knowledge about network security.