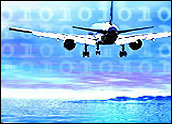 The U.S. Department of Transportation (DOT) has warned airlines that they must tell customers seeking the lowest fare that the best deals may only be available via the carrier's Web site.
The order responds to a complaint filed in 1997 by Florida attorney Donald L. Pevsner, who alleged that the airlines were illegally discriminating against non-Internet users by not telling them that cheaper fares were available online.
"We are reminding airlines of their obligation to give complete and accurate fare information to consumers," U.S. Transportation Secretary Rodney E. Slater said.
Already on the Books
Pevsner's original complaint had asked that the DOT issue a new rule requiring that airlines notify consumers that lower priced fares were available online.
"Selling higher-priced tickets by claiming that they are the lowest fares available is such disgraceful anti-consumer conduct as to beggar the imagination," the complaint said.
The DOT agreed with Pevsner's contention but declined to issue a new edict, saying that such a ruling was unnecessary because the behavior in question was already prohibited by the U.S. Code.
"We will take this opportunity to remind airlines and travel agents of their respective statutory responsibilities not to deceive consumers," the DOT said.
Limitations of Decision
The DOT stopped short of requiring airline reservations agents to tell consumers exactly what the Internet fares were, but said they could satisfy the requirement by telling callers that the airline sometimes offered lower fares via its Web site or by e-mail to subscribers.
"When we have sufficient evidence that an airline is deceiving consumers regarding the availability of its lower fares, however, we can and will take steps to stop this practice," the DOT said.
The DOT exempted travel agents from the requirement because, according to the DOT, "they are not responsible for knowing of fares sold directly by airlines via their Internet sites."
Airlines Opposed
The DOT decision came over opposition from an airline organization.
"The legal conclusion, that an airline's failure to advise an inquiring consumer that she might purchase a 'cheaper' ticket on the Internet is a violation of the United States Code, is supported with nothing beyond the Petitioner's rhetoric," the International Air Transportation Association (IATA) said in response to Pevsner's complaint.
The IATA also asserted that "it is undisputed that buying and selling on the Internet is open to anyone with a computer, a modem and a phone line, that is, open to anyone who is willing to look."