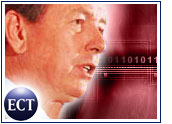 Criminal charges have been brought against approximately 90 individuals and companies as part of a nationwide crackdown on online fraud schemes that victimized over 56,000 people, the U.S. Department of Justice and the Federal Bureau of Investigation (FBI) said Wednesday.
The schemes — which included auction fraud, non-delivery of merchandise, investment scams and bank fraud — allegedly caused cumulative losses in excess of US$117 million.
"The criminal charges being announced today demonstrate the critically important role that the [Internet Fraud Complaint Center] plays in combating crime in cyberspace," FBI Director Louis J. Freeh said. "It is essential that law enforcement, e-commerce, and victims of crime have this electronic clearinghouse to expeditiously disseminate Internet fraud cases to the appropriate agency for investigation."
The FBI said that the alleged con artists face a variety of federal and state criminal charges, which include fraud by wire, mail fraud, bank fraud, money laundering, and intellectual property right violations.
The United States Post Office, the Internal Revenue Service (IRS), the Customs Service, and a variety of state and local law enforcement agencies assisted the FBI in the investigations.
Neighborhood Watch
The FBI said that the results of Operation Cyber Loss, which was initiated by the Internet Fraud Complaint Center (IFCC), are a direct result of "the close working relationship law enforcement has developed with the private sector and e-commerce companies."
As an example, the FBI said that both PayPal and Motley Fool had identified individuals engaged in wrongdoing and reported them to the IFCC.
Many private-sector companies, including Microsoft (which was cited by the FBI for its support), cooperate with law enforcement by turning over information gathered by their in-house investigative units.
"Just as neighborhood watch programs keep watch over their neighborhoods and report suspicious activity to law enforcement, Internet users now have a 'cyber community watch' program," U.S. Attorney General John Ashcroft said. "When individual citizens, businesses, and consumer agencies work with law enforcement at all levels, we help ensure the safety and security of the Internet."
Auction Fraud Tops
First on the FBI's most wanted list of Internet scams is auction fraud, according to a report released in March by the FBI and the National White Collar Crime Center.
Internet auction fraud was the problem in 64 percent of the complaints filed with the IFCC. Credit card and debit card fraud counted for just under 5 percent of the complaints.
The FBI report said that during the IFCC's first six months of operation, from May to November 2000, the IFCC logged 20,014 complaints and referred 6,087 to law enforcement agencies around the country for future action. Of those, 5,273 involved online auction fraud.
The average dollar amount of Internet fraud cases referred to law enforcement was $255 and the total dollar amount of all Internet fraud cases was $4.6 million over the six-month period. The largest dollar loss reported was $366,248.