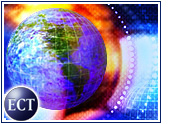 U.S. businesses widened their lead over their European competitors in the e-commerce arena last year, though there are signs that European companies hold advantages that could turn things around, according to a new survey from Andersen Consulting.
In 1999, U.S. companies generated 67 percent of global business-to-business (B2B) e-commerce revenue and 76 percent of business-to-consumer (B2C) sales, the survey found, while Europe held just 14 percent of both markets. The survey was conducted in July among 600 senior executives in the United States and Europe.
The United States has led Europe in the e-commerce race in each of the three years the survey has been conducted, Andersen said. According to the firm, European companies are "making less use of e-commerce than their U.S. counterparts and using it across a narrower range of functions."
Europeans Expanding Faster
This year's survey also found a "significant decline" in the number of U.S. companies that plan to expand their e-commerce inititatives overseas. Almost twice as many European as U.S. firms are using e-commerce to expand geographically, Andersen said.
According to Andersen, the researchers found "evidence of a growing wave of confidence in Europe, where 60 percent of executives believe that the continent can become the hub of a global network economy." European companies have the advantage of being familiar with local cultures and economies, and may be better able to work around obstacles like regulatory and infrastructure issues, the firm said.
European firms are also positioned to take advantage of emerging technologies like mobile appliances and digital TV, which are growing more rapidly in Europe and Japan than in the United States. However, Andersen said, "unless they can capitalize on that lead, Europeans could once again find that the business value of a technological advantage is lost to more dynamic competitors."
Corporations Join Dot-Coms in E-Commerce
Corporations are now taking "at least as big a role" as dot-coms in e-commerce, the study found. Fear of competition is responsible: Some 75 percent of established European businesses said they were trying to establish a secure position in their industries.
"Established businesses have ceased to be intimidated by e-commerce or star-struck by its pioneers," said Rosemary O'Mahony, Andersen's managing partner of technology for Europe, the Middle East and Africa. "Certainly the last year has proven the advantages of strong brands, deep pockets, and managerial expertise."
Some 72 percent of European firms use e-commerce for sales and marketing, according to this year's survey, up from 53 percent last year. B2B is growing at an even faster rate, with 47 percent of companies using the Internet to buy or sell supplies, up from "a few percent" in 1998, the survey said.
Potential roadblocks to the continued growth of e-commerce in Europe are a shortage of skilled workers and a raft of regulatory and legal issues, the study said.