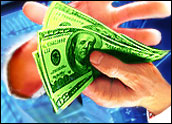 The U.S. Securities and Exchange Commission (SEC) announced Monday that it has filed charges against an unlicensed Fort Collins, Colorado chiropractor who allegedly raised over US$300,000 by fraudulently selling stock in his company over the Internet.
The charges, which were filed Friday in the United States District Court for the District of Colorado, allege that William L. Brotherton, 60, fraudulently offered $20 million in unregistered securities and misappropriated at least a quarter of the proceeds for his personal use.
According to the SEC, Brotherton falsely told investors as recently as this month that his company, International Business Consortium (IBC), "will be public" by June 1, 2002.
"There is no evidence that IBC is in any position to consider an initial public offering or that it has taken any steps for prepare for one," the SEC said.
False Claims
IBC held itself out to be a promising startup preparing to offer discount workers' compensation insurance. However, the SEC said that the company lied to potential investors about the true state of its development and operations.
Among the lies the company allegedly told were that a separate entity, Conservative Health Care Corporation (CHCC), would serve as the health care provider under IBC's business plan.
IBC also said that CHCC had 940 member doctors. The SEC said that both statements were "complete fabrications."
Who's (Not) On Board
Additionally, according to the SEC, Brotherton and IBC claimed that certain individuals are part of the management team of CHCC or IBC. However, the SEC said that the individuals that were identified denied that they had anything to do with either company.
IBC also falsely represented that certain employers planned to become IBC customers, according to the charges.
The SEC said that Brotherton served as IBC's president, vice-president, secretary, treasurer and sole director.
Outrageous Returns
IBC promised investors "outrageous returns" of up to 2,099,900 percent annually with minimal risk, according to the SEC.
Brotherton and IBC told investors that the company would use funds that were raised to buy an insurance company even though, according to the SEC, "there is no evidence of any bona fide attempts to do so." Brotherton also allegedly claimed that IBC stock was "registered" with the SEC and that the SEC had reviewed the company's scientific research. In reality, according to the SEC, "IBC is not and never has been registered with the Commission in any capacity."
The SEC added that Brotherton "misappropriated a substantial portion of the investor funds."
Emergency Relief
In addition to filing charges against IBC and Brotherton, the SEC asked the court for a temporary restraining order prohibiting future violations of the Securities Act. The SEC also wants the defendants' assets frozen, a verified accounting of the company's proceeds, and an order prohibiting the destruction, alteration, or concealment of documents.
The SEC said litigation in the case is pending.