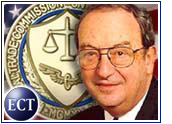 Visitors to scores of porn sites were bilked out of millions of dollars (US$), according to a suit filed Wednesday by the U.S. Federal Trade Commission (FTC) and the New York Attorney General in Manhattan's U.S. District Court.
According to the complaint, the New York City-based Crescent Publishing Group — which operates Playgirl.com, Highsociety.com, and "scores of other adult Web sites" — illegally billed customers for services that were advertised as free.
Also named in the complaint were Crescent Publishing Group's owner Bruce Chew, principal David Bernstein, and 64 affiliated companies that operate the adult sites.
FTC Midwest Regional Director Steve Baker classified the scam as one of the largest he has ever seen on the Internet. According to the FTC complaint, the "Free Tour Web Sites" generated income of $188 million between 1997 and October 1999 — $141 million of which was generated in the first 10 months of 1999 alone.
Tens of Thousands of Complaints
Like many adult sites, the sites operated by the Crescent Publishing Group requested that users provide a credit card number to verify that they were of legal age to view adult material.
However, thousands of consumers who thought they were getting a free online peep show found their credit cards billed for recurring monthly membership fees ranging from $20 to $90.
Crescent Publishing's alleged scam drew "tens of thousands" of complaints, according to the brief. These complainants included not only visitors to the site who were improperly billed, but also consumers who never visited the Web sites at all.
Credit Card Numbers of Non-Vistors Obtained
Although Web owners sometimes claim that customers are disavowing charges as a way to hide the fact that they have visited adult sites, FTC Attorney Doug Wolfe told the E-Commerce Times that numerous complainants had been willing to sign sworn depositions stating they had not visited the sites in question.
Included in the case was a sworn deposition from a woman who had been charged a recurring monthly fee for several months, even though she did not own a computer at the time of the charges and would have had no way to access the site.
According to Wolfe, the FTC does not know how the numbers were obtained from non-computer users, but added that it does not matter so long as customers are willing to sign a declaration under penalty of perjury.
Although he would not speculate on where Crescent Publications had obtained the numbers, Wolfe said that the FTC won a case earlier this year in which a company called JK Publications had simply purchased a list of credit card numbers from their credit card processing service.
Since the FTC does not have jurisdiction over banks, he could not say whether this practice was legal or not.
Different Billing Names
The defendants also allegedly confused customers by posting credit card charges under different company names. For example, instead of finding a charge from Highsociety.com on their credit card statement, consumers would find charges from "Online Forum, Inc.," "Hoot Owl, Inc." or "Knock Knee, Inc."
Consumers wanting to contact the company to complain about charges or ask for refunds often found it difficult because the company rarely provided accurate phone numbers. When the company did list an accurate number, callers were met with busy signals or no one would answer the phone.
Some consumers became so frustrated with their inability to cancel the recurring monthly charges that they cancelled their credit or debit cards.
The Move to Guatemala
When VisaUSA realized that the company was routinely changing corporate billing names and merchant banks in order to avoid the fraud detection systems of credit card organizations, it revoked the company's credit card processing privileges.
The revocation of their VisaUSA processing privileges did not stop the defendants. They simply moved their merchant banking relationship to Guatemala, adopted new merchant names and continued to process credit card transactions, according to the FTC.
The FTC and the New York Attorney General are asking the court to freeze the defendants' assets, pending trial, to provide for consumer redress. They also want the court to halt the deceptive and unfair practices.