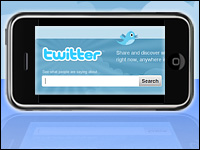 From bulk mail to email to social media: The next chapter in the checkered history of spamming is now being written via status updates and tweets. However, Twitter is trying to ensure that the chapter is a short one following the company's introduction Tuesday of a new "report as spam" button on user profiles.
"Folks can now help us conquer spam by calling our attention to a profile they find questionable," wrote @JennaDawn in the Twitter blog. "Click the 'Report as spam' button under the Actions section of a profile's sidebar and our Trust and Safety team will check it out to see what needs to be done." That's the way Twitter is trying to guard against abuse of the button, by ensuring that no automated action will be taken against users — no snitching out of spite or simply because you find the excruciating minutiae of somebody's tweets particularly annoying.
However, "once you report a profile, it will automatically be blocked from following or replying to you," @JennaDawn wrote. "You nailed it!"
Yet before the introduction of the button, blocking or unfollowing potential spammers was already available to users.
The development also raises questions about exactly how Twitter is defining spam, as well as how the new button will impact sponsored tweets and the desire for legitimate marketers to move into the social media space, thereby providing revenue for the company.
How Twitter Is Defining Spam
Twitter "spammers" have become enough of a phenomenon that bloggers have anointed them with their own mashup nickname: "spitters." They are the ones working botnets that create fake Twitter profiles, auto-following users and spewing out things like porn-related tweets and links.
"They're actually stealing photos of other young women on Twitter as their profile pic, which gets into a whole new area of online identity management and theft that needs a closer look in the future," said Eric Weaver, digital strategist for the Tribal DDB advertising agency.
The "report as spam" button is good but long overdue for Twitter; the photo-sharing site Flickr has had a similar feature in place for some time, Weaver said. "The key thing here about Twitter is that it's opt-in — you only follow people you want to," Weaver told the E-Commerce Times. "If I follow you and I think you're spamming me, why not just unfollow? I think this (button) was made primarily to identify fake profiles and people who are following thousands of people in the hopes of getting followers back. That would be true spam. It's more the follow is the spam than the tweet, or the Twitter page is spam."
The pornographic abuse of profiles is likely the real impetus behind the new feature, according to IDC social media analyst Caroline Dangson. "We find people are using Twitter at work more than Facebook, and this (porn spam) would be a huge killer of opportunity for them," Dangson told the E-Commerce Times. "I think this is why Twitter is adding easy ways to report this. They use the word 'spam,' but I don't think this addresses sponsored tweets or marketing. The larger issue is people coming on and posting links to webcams and doing things that would be inappropriate activity when viewed at the workplace."
The Important of Controlling 'Spitters'
Requests for comment from Twitter founder Evan Williams, @JennaDawn and the company's public relations representatives were not answered, so it's not known exactly how Twitter plans to manage legitimate marketing on its network. It's a key issue that speaks to Twitter as a revenue source, not just as media darling, said Lon Safko, social media entrepreneur/consultant and coauthor of The Social Media Bible.
Perhaps the CAN-SPAM Act, written before the advent of social networking, could use an amendment, Safko said. "Twitter can block spammers, but as we saw prior to the [CAN-SPAM Act], the spammer simply opened a new email account on Hotmail or Yahoo and was right back at it again within minutes. The same can be done with a new Twitter account. Even tracking and blocking IP addresses and IP ranges are a temporary solution," Safko told the E-Commerce Times.
"I would like the see the SPAM legislation be tweaked for Twitter to a definition that is a little more generic — where the word 'email' could be replaced with 'electronic message.' This way we can legitimize valuable commercial tweets and eliminate the unsolicited commercial junk. We could also follow the SPAM Act with requiring 'ADV' added to the beginning of commercial tweets as sort of a hash tag."
Personal responsibility also plays a part here — "spitters" are on Twitter because enough people are following links and providing click-through numbers to someone. "If we report them, block them and not encourage them, then 'spitting' won't be profitable and they'll go away," Safko said.