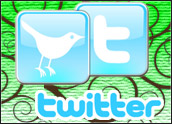 Word on the street about Twitter in recent weeks has pointed to a company looking for new dollars. The latest buzz: It wants to sell out to Facebook or Google; or JP Morgan is about to make a significant investment.
Cofounder Biz Stone has been dispelling those rumors, but it's possible, of course, that Twitter is deliberately fanning the flames to fire up interest in the social networking site.
Regarding a possible acquisition — Stone reportedly said Thursday in remarks at the World Economy and Future Forum in Seoul, South Korea, that there is room for another Internet giant, and he insisted the company wanted to remain independent.
Stone's remarks in Seoul were apparently in response to a question stemming from a report last month in The Wall Street Journal that Twitter had engaged in talks with Google and Facebook about a possible purchase.
That rumor met with a lot of skepticism in the blogosphere, but the idea of an initial public offering seems to carry more weight. Whispers have have become a hum in the past few weeks that Twitter could step out as the first major IPO of the dot-com boom 2.0.
Stone told Reuters that Twitter was not planning an IPO anytime in the next 12 months, however.
Ramping Up Revenue?
As for a big infusion of cash, the Financial Times reported last week that a technology fund group within JP Morgan was in talks with Twitter about buying a 10 percent share for US$450 million.
That would value the company at $4.5 billion — small compared with Facebook's $50 billion valuation, but significant nonetheless, given the site's shaky foundation for driving revenue.
Stone told Reuters the report was a fabrication and that Twitter was making its own money and planning to ramp up revenue, and was thus not looking for investments.
Twitter did not respond to the E-Commerce Times' request for comments by press time.
Cash Infusion More Likely Than IPO
Twitter may be the winner as the speculation continues to swirl. There is likely some ember just waiting to catch fire.
"It's hard to say which of these rumors may come to fruition," Laura DiDio, principal analyst at ITIC, told the E-Commerce Times. "A cynical person might say Twitter is floating many of the rumors itself in order to stir up interest. It's pretty clear, though, that Twitter wants to expand. So yes, they're shopping themselves around."
An investment could be safer than an IPO at this point, considering the state of the economy. Yet an IPO would certainly create a tasty splash of attention.
"I would think an infusion of cash from JP Morgan may be more likely in the short term, rather than the acquisition talks with Facebook or Google," said DiDio. "As for an IPO, they may be testing the waters. Social networking sites are amazingly popular, but it's still a dicey, tenuous economy out there right now."
Twitter seems to be on solid footing at the moment, but it's easy to stumble in the fast-paced tech industry.
"So far Twitter has done a great job monetizing itself," said DiDio. "But you can't rest on your laurels in this space. Their competition is huge. We'll hear more of these rumors. I do think they are looking to get more cash from somewhere. A short-term cash infusion is more likely."
Investment Opportunities
Bulking up its network could increase Twitter's income.
"Ultimately, the opportunity for monetizing a technology like Twitter might come down to building or buying other aspects of social networking," said Al Hilwa, program director for applications development software at IDC.
"I don't know if the rumors are true," he told the E-Commerce Times, "but if the question is whether Twitter should cash in on some early success to bring in more funds for much-needed investment to realize its opportunity, then the answer is obviously yes."