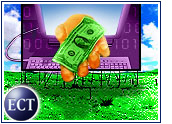 In an effort to vault into the top tier of the crowded online travel field, Cendant has announced it will invest US$40 million in a marketing blitz to promote its Trip.com Web site.
Real estate and travel giant Cendant relaunched the Trip.com site in advance of the campaign, saying it more closely integrates its family of offerings. Those offerings include Ramada Inn, Days Inn, Howard Johnson, the RCI time-share network and car rental company Avis.
Trip.com chief operating officer Jacob Stepan said the company hopes to distinguish itself by focusing on personalization. In fact, the ad campaign, called "portraits," will focus on the fact that each traveler has different needs.
Stepan added that the relaunch is part of "our long-term commitment to be the most responsive travel site on the Web."
The site will feature round-the-clock telephone support and unpublished discounted rates on hotels and airfare, according to the company.
Groundwork Done
For Parsippany, New Jersey-based Cendant, the move is an extension of last summer's $425 million purchase of Cheap Tickets and its later purchase of Galileo, an online reservation booking system.
The company said it plans to continue operating Cheap Tickets as a separate online destination, although Trip.com will become the focus of most of its Internet efforts.
Head Start
Meanwhile, Cendant said that when taken as a whole, Trip.com and Cheap Tickets already rank among the fastest-growing Web sites. According to Jupiter Media Metrix, the Trip Network grew nearly 50 percent in March, drawing 8.5 million visitors.
In comparison, Jupiter said, Expedia received just over 12 million unique visitors and Travelocity logged 11.8 million. Overall, travel sites have been among the best performers in terms of Web traffic in recent months, with Nielsen//NetRatings clocking a 12 percent growth rate for the sector in March.
But despite its existing foothold, Trip.com still faces the prospect of battling with several well-established sites, including Expedia, Travelocity, Orbitz and Priceline.com.
Tough Market Foreseen
Analysts have long predicted a deep cut in the number of sites that can survive within the online travel sector, which is also populated by a number of less well-known companies.
"It's certainly getting more crowded," GartnerG2 research director David Schehr told the E-Commerce Times. "It's not going to be easy."
Schehr said Cendant faces a difficult task in translating its competitive advantage — a direct link to discounts through its hotel, resort and car rental subsidiaries — into a clear consumer message.
"Their initial ads don't even focus on that anyway," he said. "It's not an easy thing to say, 'Come to us because we'll get the same airfares, but because we have these hotel partners, we'll get you a better overall deal.'"
Free Stuff
In addition to a television, Internet and print campaign using the tagline, "There's only one you," Trip.com said it will lean on promotions to get its site off the ground. The company plans to give away 10 free airline tickets per day until May 13th to Trip.com customers and also will offer 10 percent discounts on all airline fares during that time frame.
Cendant has something of a checkered past in e-commerce. An early player in the online auto sales arena, it sold its AutoVantage service to AutoNation last year. It also became a key backer of controversial online real estate giant Homestore.com, which was forced to restate nearly two years' worth of earnings because of accounting concerns.