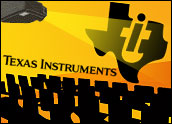 Texas Instruments announced on Tuesday that it has signed an agreement to acquire its rival, National Semiconductor, in an all-cash transaction totaling US$6.5 billion. This will merge two leading analog semiconductor companies.
National's shareholders will receive $25 a share, 78 percent higher than its most recent closing price of $14.07. Both companies will operate independently pending the close of the acquisition, projected to be six to nine months from now. National's stock shot up 70 percent Wednesday morning.
This acquisition will create a single analog portfolio with a wide selection of 42,000 products. The combined sales team of the companies will be about 2,500 — 10 times larger than National's current team.
The acquisition will allow TI to increase production levels for in-demand products and to offer the industry's first 300mm analog capability. TI will continue to use National Semi's fabs and part numbers, so no requalification will be required.
Arsenal Upgrade
TI hopes to gain some valuable technology from National Semi.
"We are seeking to acquire National because we can unlock a lot of growth at National," Chris Rongone, TI spokesperson, told the E-Commerce Times. "They have great technology, great talent and complementary products — but their growth declined as they focused on better margins and withdrew from certain customers. We will put their portfolio into the hands of our combined sales forces. We believe the sales force can accelerate National's growth rates to a level comparable to TI's."
While some analysts claim TI is overpaying for National, TI disagrees.
"We are paying fair value," insisted Rongone.
"For example, analog peers — Linear Tech, Analog Devices, Maxim — run an average of 4.2x market cap/revenue ratio. At the transaction price, we are paying 4.1x, a little below the average for analog companies," he pointed out. "Keep in mind National's gross and operating margins are certainly well positioned compared to those in this peer group. This gives us confidence in the attractiveness of returns we can see on this investment."
Past merger experience can help TI conduct a smooth acquisition.
"Successful integration is always the riskiest part of any acquisition and the biggest determinant of our ability to generate a significant financial return on the investment," said Rongone. "We will assemble an integration team whose sole job will be effective integration, and we're being aggressive about retention of National's talent pool. Our experience in successfully integrating 24 other acquisitions over the past 12 years will serve us well."
A TI with an upgraded portfolio has the muscle to advance.
"National's products are complementary to ours, and those that are not only make us stronger with greater breadth in highly competitive markets. Together, we can collectively serve more customers and more end markets, which means together we can grow a larger company faster than the market."
Devil Is in the Details
Some critics have suggested the National acquisition is a tad large for TI.
"TI looks to be trying to corner the analog chip market and, if successful, this could make the price seem reasonable," Rob Enderle, principal analyst at the Enderle Group, told the E-Commerce Times. "However, mergers between two struggling companies often don't turn out well — particularly if they are both of similar sizes. Big mergers are tough, and there are very few people who know how to do them well."
Adept implementation may be the key to the merger's success.
"TI paid a premium, but the result is a huge market position in a segment TI knows well," said Enderle. "If the result is control over that market, the price could turn out to be cheap. If TI can't execute a massive merger, than $1 would be too expensive. It will come down to execution."
Market dominance or disaster? Not yet clear.
"They should be able to hold customers reasonably well with both companies initially, but they will need to cut intelligently to optimize the result," said Enderle. "The politics of a large merger are particularly difficult, and the tendency is to hire someone like McKinsey to do the work. McKinsey can help make a number of tactical decisions, but typically doesn't have enough industry knowledge to assure a merger of this size, which often results in a train wreck over a 24-month period.
This could be an important crossroads for TI.
"If this goes well, then TI could basically own the analog chip market," Enderle said. "If it goes poorly, it will provide an opportunity for another company to move in and take the space formerly occupied by TI and National Semi."