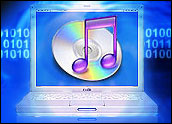 Newsflash: Apple is the market leader in digital music downloading, with more than 6 million song tracks sold in less than four months through its iTunes Music Store. That's good news for the computer company, which usually has to resort to the cold comfort of knowing that while people think its products rock, they don't buy them in nearly the numbers they do competitors' inferior machines.
Some competitors, including the always-feisty Buy.com, have charged out of the gate, targeting PC users in an effort to beat Apple iTunes, which is currently Mac-only, to the punch. BuyMusic has had some early stumbles, including reports of problems transferring downloaded tunes to portable players, but it is likely to at least make a competitive nuisance of itself.
The only problem is that no one can say exactly what prize is awaiting the winner of this derby. No one even knows what lies around the first turn.
Dark Horse
While Apple has managed to convince record labels to standardize downloading rules, the BuyMusic option for PC users is all over the map, with some songs swappable unlimited times and others with tight restrictions. Also, not all of the songs a user might want to listen to are available.
Still, those hurdles aren't stopping new entrants from joining the race. By Christmas, we're told, the infamous Napster will be reborn into the breach, with new owner Roxio dressing up the former outlaw in respectable fashion and carefully toeing the legal line.
So the Mac users are once again cordoned off in their niche space, enjoying what by all accounts is a site that runs like a top, spinning songs onto their MP3 players with reckless abandon. Meanwhile, PC users are already bombarded with choices, no doubt with more to come.
But, surprise — analysts are starting to throw up flags of caution about how fast the legitimate music download space will grow. The economy isn't that great, they say, so discretionary spending is muted. Besides, there is still a little piracy problem out there.
Subpoena Party
The record industry thinks it can carpet-bomb pirates into submission, burying them under a ton of subpoenas and trying to stall their swapping with threats of heavy fines and jail time. It remains to be seen whether or not the industry is correct.
Meanwhile, even with free music buzzing around the ether, analysts believe legitimate downloads will be worth close to $1 billion in the United States alone this year, and three times that amount before long. A billion dollars is nothing to sneeze at, but is it really worth all the attention it's getting?
Probably not — especially if you're Apple and your attention is already divvied up among your various business segments.
Consolation Prize
Does the computer company with the alternative bent really want to dominate another industry niche with a questionable future? Maybe it's a consolation prize for Apple and, for that matter, for Buy.com, too, which will always play second-fiddle to Amazon.com.
The two companies find themselves stuck in industries where competitors and circumstances have built glass ceilings they'll likely never break through, no matter how great their products or how low their prices. So they'll get to take home the digital download blue ribbon.
First in something is probably better than second in everything.
---
Note:
The opinions expressed by our columnists are their own and do not necessarily reflect the views of the E-Commerce Times or its management.
---