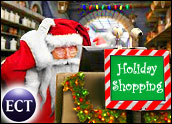 What's the use of having access to a World Wide Web if you're only going to shop three or four mainstream retailers anyway?
To spice up this year's load under the tree and avoid the ho-hum doldrums, here are some hot new Web site choices to find the perfect gift for even the zaniest character on your gift list:
Socially Conscious Sites
For the socially conscious, go to the Global Exchange Fair Trade Online Store, where you'll find sweatshop-free, recycled goods that are "Fair Trade" certified to ensure that farmers and artisans are paid a living wage, and that your gift isn't made by forced or exploitative child labor. Fair Trade also promotes production techniques that will not harm the environment. You'll find products from all over the world — Yachana Jungle chocolate, hand-painted mugs from Thailand, Tibetan Khatsa Sauce, Hmong Tribe Wall Hook, Zimbabwe Doll Friends, and much more.
Ten Thousand Villages is also a fair trade site and offers cool stuff from handmade Vietnamese serving bowls to bamboo furniture, sculptures and a leaf-and-bamboo journal. Plus, stories on the artisans tell you who is benefiting from your purchase and a little about how the item is made.
Purchases from Kenana Knitter Critters helps the group provide medical treatment and income for poor women and their families in Kenya. Proceeds from the whimsical knitted products — ranging from African animals to funky scarves — also help fund construction of a new school in Kenya. Each item is signed by the woman who knitted it!
For those who want to rescue the environment, check out Eco-Artware. Every item — from chairs made from retired aluminum traffic signs to business card cases made from old circuit board — is made from recycled goods. There's even handmade vintage vinyl cuff bracelets made from the labels of vintage 33 RPM vinyl rock records. Long live Led Zeppelin!
Outside the Mainstream
If you're feeling creative and want to give someone a truly one-of-a-kind gift, but you don't want it to look homemade, go to Caf Press, where you can have your own design put on just about anything. Or, you can shop for some really cool gifts amongst their existing product line, from zany political tees and cups to geek presents. Anything goes on this site made to tickle the funny bone and please everyone from mainstream moms and creative esoteric friends to your favorite mad scientist.
If you're feeling a little mischievous, give the unexpected this year, like an ammunition case wine bar, good JuJu in a jar, a butterfly house, or maybe even a Happy Buddha pen holder from Uncommon Goods. I'd think twice about giving your mother-in-law the Wisdom of the Crone deck, though. She might not see the humor in it!
For the artsy-fartsy crowd, head over to the Museum of Modern Art. From zany color-bursting Andy Warhol watches to curved drinking glasses, a futuristic handheld wet-vac, and a three-port, rubber USB hub, you're not likely to find more useful and classy gifts anywhere. Well, the USB hub is a little weird — looks like a massage ball from Mars, but it's still cool!
Quincy Shop has a cool collection of stuff from unique toys to robots that sharpen pencils and other zany desk accessories. From leather-bound journals to a polka-dot toaster, it's just a fun place to shop. There's even a brass-plated petanque set in a wood box — a celebratory rendition of classic petanque balls to celebrate the year of The Golden Pig.
Just Plain Odd
For the eerie Goth in your life, or maybe for that uncle with the taste for the macabre, try Skeletons in the Closet, the L.A. County Coroner's Web store. There you can find T-shirts with the Coroner's logo, body bags, and cadaver-shaped office supplies among other ghoulish, but harmless, gifts.
If your Aunt Myrtle is bringing her nasty Chihuahua to your house for her holiday visit, and you have to get the pooch a present too, try Pet Gadgets. Check out the Doody Dangler (ewww!) and Pawsitive I.D., a DNA testing kit for the dog (so you know for sure it's the right pooch before you pay out the reward to the guy who brought the darn dog back).
For the paranoid parents, get a snoop-proof baby monitor so Mom and Dad can listen for the baby's cry but lock neighbors and spies out so they can't listen in on household conversations over the device. Bet you didn't even know your neighbors could listen in that way, did you? The Philips DECT baby monitor scrambles the signal. You'll find it here.
Last but not least, for THE gifts for the See-and-Be-Seen crowd, go to Shop Intuition, where you can buy cool stuff shown in all the leading gossip and women's magazines. Want those perfect little black leather pants Angelina Jolie wore in People, — get the lookalikes here. Ditto on Jennifer Anniston's ear bobs in E! and the sunglasses Britney Spears wore in the OK! Shot. These are not the actual items worn by the stars — but they are products featured in the magazine and in the photo shoots. Now you no longer have to guess what's cool for the too-cool star watchers.
If you're sure the holidays are going to drive you mad before they're done, treat yourself to some stress relief by going to Mighty Goods, where you'll find nifty treats for yourself, from a copper still to a Voodoo knife holder (body-shaped, looks like a modern voodoo doll; you can pretend it's whichever relative is currently on your nerves as you put your knives away), Darth Vader and Storm Trooper ornaments, and a customized guitar pick (if you play loud enough, maybe everyone will go home soon).
Happy holidays!