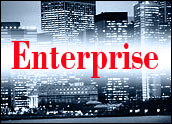 The collective intelligence of employees and the extended corporate community can transform overwhelming quantities of raw data into organizational knowledge.
Of the 300 organizations that participated in Aberdeen's June survey on collaboration, those that respond to business threats and complete key projects faster were more likely to have organizational and technological capabilities that supported collaboration.
The Aberdeen report on transforming information overflow to improved business performance will show how social and collaboration software deployments improve businesses by defining standards of productivity and business improvement and creating a roadmap for the development of people-driven networks.
Then and Now
The amount of information associated with business employees has grown exponentially over the past 30 years. In the 1980s, employee and project-related information amounted to a handful of megabytes per individual, much of which was stored on hard documents. Some lag was expected between an event's occurrence and its impact on organizational decision-making.
The modern employee's demand for information differs from that of her predecessor in the:
Quantity of the information to which access is needed
The unprecedented speed at which information is required
The expectation of colleagues that up-to-the-minute data will be incorporated into the decision-making process
History has proved out Moore's Law, as the processing power that can inexpensively fit on a single transistor chip continues to double once every two years; and hard disk storage cost per unit of information halves on average once a year. In the wake of this exponential growth, and the corresponding bloat of software and file formats, companies have struggled to keep pace with the terabytes of data associated with their current employees. This information must be prioritized and contextualized.
Modern employees must also respond to this information faster. The average employee in Aberdeen's June study received 66 emails a day, or over 1,300 a month. An employee must process email, along with Internet-driven updates and social media, on top of traditional business inputs such as phone calls and written memos. To properly prioritize this additional information, employees must have more efficient processes to take in information more quickly and accurately.
People-Driven Networks
Traditionally, organizations have used automated information management silos, such as enterprise content management or asset management systems, to manage data. While a majority (54 percent) of respondents had some form of content management, these platforms lack the intelligence to prioritize data and fully meet the information needs of knowledge workers.
These data management systems arose because the ability to store and archive content increased faster than the ability to share knowledge effectively. However, companies have a powerful engine that can transform overwhelming data into knowledge that will serve as the basis for action: the collective intelligence of employees and the extended corporate community.
Organizations have always known that collaboration between experienced employees provides value to the enterprise. By studying the ways that top performing organizations have improved their business results through the use of people-driven networks, this report seeks to quantify the business value associated with the most powerful and valuable of corporate assets: the focused efforts of like-minded and motivated employees.
---
Hyoun Park
is a research analyst in communications at Aberdeen Group.