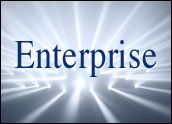 On January 21, 2010, Siemens Enterprise Communications and Polycom announced a strategic alliance and global resale agreement to integrate Polycom telepresence and video collaboration solutions within the Siemens OpenScape Unified Communications (UC) environment.
As this partnership brings a number of video form factors and solutions into a mature UC environment, how can these changes enable increased collaboration and productivity? Based on unified communications and video research conducted over the past 12 months, Aberdeen has studied the correlation between video, UC, and business value.
Translating Video Technology to Video Collaboration
Videoconferencing systems have existed since the 1960s and since then, these systems have slowly been integrated into the enterprise. The vision of videoconferencing has always been clear in theory, as depictions from "The Jetsons," "Star Wars," "Star Trek," and other science-fiction titles have shown. As companies realized the value of synchronizing real-time, interactive, immersive nonverbal communicative cues with the verbal conversations already available through the telephone, they sought similar solutions.
However, companies attempting to make this leap in the 1980s, 1990s and even the early part of the 2000s found that video technology was fraught with difficulties and did not live up to the hype of a single-touch, fully immersive video communications experience.
This contrast is made clear in Aberdeen's August 2009 report Enterprise Video Collaboration. Because of the challenges of the past, the top strategy for companies with implementations over five years old was to develop a corporate culture to use video collaboration in the enterprise. In contrast, the top strategy for newer implementations focused more directly on increasing video collaboration with external customers, partners and contacts with the expectation that the technology will simply work.
In the past few years, the convergence of bandwidth, processing power, standards-based video, and usability have translated videoconferencing from a technical puzzle to a practical business tool. Video has progressed both in terms of expectations for the technology and the ability to integrate video into business processes. This progression has been aided both by the proliferation of form factors and increased knowledge regarding the use of video within the enterprise.
New Video Technologies Driving Business Value
In Enterprise Video Collaboration, Aberdeen defined Best-in-Class companies (the top 20 percent of respondents) as those that could define a payback period of one year or less, reduce travel by more than 40 percent, and have more than 50 percent of employees adopting video in the enterprise.
In comparison, Laggard companies (the bottom 30 percent of respondents) were unable to define ROI, saw only a 3 percent decrease in travel, and had just 4 percent adoption of video overall. To ensure that Aberdeen's community was able to replicate the results of the Best-in-Class, it explored the technologies adopted by top companies to a greater extent than all other companies.
From a technology perspective, the video technologies providing the greatest value to the enterprise can be divided into two separate categories: transport/messaging technologies and display technologies. Each category provides specific value in enhancing collaborative capabilities.
The greatest differentiator in video collaboration technologies was the ability to have business-to-business video calling ability. Sixty-seven percent (67 percent) of Best-in-Class companies were able to do this, which was three times the adoption for all other respondents. However, there are multiple ways to accomplish business-to-business calling. Fifty-seven percent (57 percent) of Best-in-Class companies had technology for video firewall traversal to allow their video solution to go across in a formal fashion. However, some organizations also dealt with the risks of reduced security or reduced feature functionality to enable their video calling, which can result in additional problems from an enterprise risk perspective.
Using video for multiple endpoints also was a Best-in-Class practice. One way that Best-in-Class companies did this was to use a Multipoint Control Unit (MCU) to enable at least three or more endpoints to communicate with each other. Although an increasing number of solutions provide either the functionality of continuous presence, which shows all respondents simultaneously, or voice presence, which only shows the active speaker, the MCU provides more robust capabilities for network and bandwidth management and to support collaborative efforts.
Companies also sought some level of dedicated bandwidth for video. Sixty-four percent (64 percent) of the Best-in-Class used dedicated bandwidth from a network management perspective, and 43 percent invested in a dedicated WAN to connect video locations. Although bandwidth demands are changing for video and the public Internet is becoming increasingly common for video transport, the enterprise needs to be aware of the necessity of properly managing bandwidth to ensure video quality without compromising the rest of the corporate network. Network support is an important component for companies that have high levels of video usage.
From a display perspective, several technologies were important to provide business value to Best-in-Class companies.
From an overall perspective, the use of a PC Web client was important for the mainstream adoption of video collaboration in the enterprise. Seventy-five percent (75 percent) of Best-in-Class companies identified the use of PC Web clients for videoconferencing compared to less than half of all other organizations. Sales and customer care departments were more likely to use PC video, while project management and talent acquisition teams were more likely to use the fixed-room video formats that allowed for increased collaboration and higher-quality video. By bringing video collaboration capabilities directly to the desktop and the employee, Best-in-Class companies were able to increase adoption and find more value-driven use cases to justify their video investment.
In addition, Best-in-Class companies used high-definition video, high frame rates, and movable cameras and screens to meet one of the top challenges of video collaboration: realistic eye contact and body language. To truly synchronize these behaviors on all sides of a video collaboration solution, the technology must be sufficient to provide a realistic experience. Otherwise, companies risk the challenge of the "uncanny valley," when an experience simulates reality, but does so in a way that is disturbing and actually less effective than a less realistic-experience.
For example, an audio call provides less context than a video call with some delays, but the audio call may be more valuable simply because it is more consistent and less distracting.
Finally, from a support and management perspective, companies should consider the use of business process outsourcing (BPO) to fully gain the benefits of video without investing in additional in-house resources. As video has become more robust and the technology cycles have accelerated, large implementations are more likely to require some level of support. Since video collaboration support is rarely a core competency for IT departments, 38 percent of Best-in-Class companies have implemented a BPO solution for supporting videoconferencing deployments compared to less than 10 percent of all other companies.
Video in the Unified Communications Suite
To emphasize how video affected the agility and interactions of the enterprise, the top 20 percent of respondents in Aberdeen's September 2009 report Unified Communications: Gaining a Competitive Advantage While on the Move used desktop video 2.4 times more than all other organizations. These Best-in-Class respondents were able to improve the speed of responsiveness to business issues over five-times more than Laggards (the bottom 30 percent) and reached their intended contact on the first try more than four-times more than Laggards, which shows how the integration of video provided operational efficiency that accelerated business processes and escalations throughout the enterprise.
Although the ease of a "one-click" or "one-number" solution for dialing up video calls was still an emerging capability for Aberdeen respondents, Best-in-Class companies were still more than twice as likely to have this ability compared to all other companies. This demonstrates that integration was associated with video-based ROI, enterprise adoption and travel reduction benefits.
For videoconferencing and telepresence to gain the same adoption as telephony, companies must improve the ease of use in scheduling and initiating new meetings. It must be as easy to start video collaboration technologies as it is to dial a phone number or begin an instant messaging conversation. By supporting this ease of usage, video is transformed from a complicated IT technology to a self-service collaboration tool.
Key Takeaways
Companies that are seeking to optimize their videoconferencing investment or are seeking to integrate video with their unified communications solutions must keep several key issues in mind.
Dedicate network and application performance resources to videoconferencing efforts. Best-in-Class companies had some form of dedicated bandwidth for video, whether in the form of dedicated circuits, a portion of an MPLS network, or application prioritization. By understanding the impact of video on the network and monitoring the network and endpoints involved, these top performers were able to maintain Quality of Service (QoS).
Focus on the capabilities that enable business-to-business calling. These abilities include standards-based video, firewall traversal, and existing relationships to provide interoperability with various standards-based, legacy and proprietary video systems.
Emphasize characteristics that improve the ease of use for videoconferencing. Companies that have invested in a company-wide videoconferencing initiative seek employee adoption to justify that investment. To do so, organizations must implement one-click or one-number video dialing abilities, drive videoconferencing to the PC, and acquire an interface that either matches or simulates the computer environments that employees already use. By easing the learning curve, top video-enabled organizations are able to shift the focus from supporting video to aligning video with accelerated business processes such as improved product development, accelerated talent acquisition, and revenue-enhanced sales opportunities.
For more information on this or other research topics, please visit www.aberdeen.com.
---
Hyoun Park
is a research analyst in telecom and unified communications at Aberdeen Group.