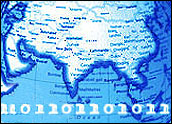 Outsourcing may be a bane to many U.S. technology, finance and manufacturing employees, but it has proved a boon — and a catalyst for cultural change — to nations like India that are reaping the benefits of this trend.
It is fortunate that a bright side for employees exists, because the outsourcing tide seems unstoppable. By 2015, more than 472,000 computer-related jobs alone will move overseas, versus 27,000 in 2000, according to Forrester Research estimates.
India is the top choice for offshore outsourcing, a World Bank study found.IT-enabled services in the country grew 70 percent between 2000 and 2002, according to a study released last year by the McKinsey Quarterly and the National Association of Software & Services Companies (NASSCOM), an Indian software industry organization. Also, as of September 2003, 360,000 Indians were involved in technology-related services compared with 242,000 the previous year, Chappaqua, New York-based market research and business intelligence firm Evalueserve said.
By 2008, 1 million Indians are expected to be employed in the services sector, NASSCOM predicts, and the sector will generate between $21 billion and $24 billion. In 2002, the Indian IT-enabled services industry reaped revenue of $2.3 billion, up from $1.5 billion in 2001. And this year, Indian software and services exports are projected to grow by up to 28 percent, reaching revenue of $12 billion, the industry group expects.
In the Money
Although Indian employees typically earn less than their American counterparts, the standard of living is improving, said Ramesh Nair, CEO and creative director of Niyati Technologies, based in Chennai, India. The five-year-old company offers such services as application development, user interface design, Web site creation and multimedia production. Its U.S. client list includes BMW, drugstore.com and Hewlett-Packard.
"[The standard of living] definitely has gone up," Nair told the E-Commerce Times. "The last time there was such a boom was when people — mainly from South Indian states like Kerala — went to the Middle East for jobs. The difference is that, earlier, people only made money. Now people are more open to accepting American values and culture too."
Indian workers typically make about one-fifth to one-eighth of what U.S.-based workers do, Dr. Alok Aggarwal, chairman of Evalueserve, told the E-Commerce Times. But those lower salaries go further in India.
"When you look at purchasing power parity, it's not one-sixth," Aggarwal said. "Probably a reasonable amount is one-third to one-half. Their purchasing power is substantially more."
Far-Reaching Effect
Although 360,000 people represents only a tiny percentage of India's population of 1 billion, outsourcing impacts far more people than those hired by foreign companies, according to Aggarwal. "For every job created in India, three more jobs are created … as a side effect," he said.
For example, companies hire cleaning staff, cafeteria and transportation employees, he explained. In addition, businesses buy or rent properties, hire or buy limousines or shuttles, and spend on entertainment, travel and training.
Good for the Soul
However, the biggest impact may not be on the wallets of Indian nationals hired to do outsourced work.
"One of the things I feel the biggest impact has been is on the psyche of people, especially the educated middle class," Aggarwal told the E-Commerce Times. "Most of the people employed in this 360,000 people … are probably below 30. They're probably 26, 27 years old. [The new generation] is coming up with the view that they can actually achieve. That has a greater impact than the economic impact, which will probably be seen in the next 10 years or so. It's almost an euphoric impact. People say, 'We can do it.'"
Working for U.S. businesses also is altering the work environment, according to Nair. "Salaries [are] on the rise of late. Also, employees demand a better working atmosphere and other perks which were unheard of before," he said. "Working on Saturdays is considered taboo by most IT companies."
Previously, employees worked six relatively short days per week, Aggarwal explained. Today, however, those involved in outsourced functions typically mirror their Silicon Valley counterparts. "They want to have a five-day work week, but in those five days people are working like maniacs," he noted, adding that many companies have two shifts: 7 a.m. to 5 p.m., followed by a second shift from 5:30 p.m. to 3:30 a.m.
Changing Styles
To cater to the new influx of cash, four malls have sprung up in suburban New Delhi, Aggarwal said. On the basis of the American model, retailers offer designer jeans and many of the other accoutrements found in the suburban United States. "You [also] see more pubs — good or bad," he noted.
Likewise, those who have benefited from offshore outsourcing may buy cars — something often unheard of in earlier generations. In October, for example, auto maker Maruti Udyog's sales grew more than 35 percent, and Hyundai Motor India's sales increased 27.4 percent, according to The Hindu newspaper.
Eye on Education
The culture and economy of outsourcing also could benefit India's growing population living in poverty, according to India Watch. In the past 100 years, India's population has increased 400 percent, the organization claims, but only about half of the country's population is literate. Also, India's per capita income is only $440, according to the group's Web site.
However, thanks to the outsourcing boom, middle-class parents can leverage the success of today's twentysomething workers to encourage their younger offspring to attend college, get a degree and succeed in the global workplace, Aggarwal noted.
"This adds ammunition to the middle class, which has been hell-bent over the last generation to make sure their kids get an education," he said.
So, from a global perspective, offshore outsourcing does have a bright side: It reinforces the benefit of higher education, allows individuals to purchase cars andgives workers confidence and hope for the future. That may be cold comfort to workers who have lost their jobs in the United States, but one thing is certain: No matter its effects, offshore outsourcing impacts all it touches — from the corporation, to the U.S.-based worker, to the employee in India.