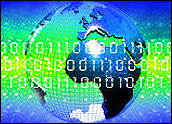 Corporate America is outsourcing an increasing number and variety of jobs to foreign shores, a trend that few industry experts predict will slow, let alone reverse, in coming months and years.
"Offshore outsourcing is just one small part of a (US)$5 trillion global outsourcing market. This market is growing by more than 15 percent per year, and the offshore component is certainly among the fastest growing," Michael Corbett, president and CEO of New York-based Michael F. Corbett & Associates, told the E-Commerce Times. "We are at the earliest stages of a fundamental transformation from regional economies to a single, integrated global economy. Just as companies now compete globally, workers need to realize that they, too, are competing globally."
Recently, the AFL-CIO — citing a report by Gartner — reported that by the end of next year, one out of every 10 jobs with U.S.-based information technology vendors and service providers will be exported. By 2004, according to the 2002 Gartner report, more than 80 percent of corporate boards of directors will have considered offshore outsourcing, while 40 percent of corporations will have finished an outsourcing pilot program or be actively involved in outsourcing technology services.
However, at least one analyst is more optimistic about the future of U.S. workers. "The outlook for the future is more offshore outsourcing, but not at the levels predicted by other analysts in this area," said Alan Pelz-Sharpe, vice president of software and services at London-based research firm Ovum, in an E-Commerce Times interview. "I think there is a leveling-off period coming up over the next 12 to 18 months. The backlash is growing, an election is due, and these are white-collar jobs."
Where the Jobs Aren't
Although industry observers would be hard-pressed to find any spot in the United States that is completely unaffected by offshore outsourcing, several technology experts believe the most hard-hit regions are those with a high cost of living, such as New York, Los Angeles, Silicon Valley and Chicago.
"I would guess the [cities] in the Northeast, Illinois — the expensive areas — and certainly the whole West Coast [have been impacted]," Ernie Nounou, a founding partner of the Catalytic Group and coauthor of a report titled "The Impact of Outsourcing on the American Worker," told the E-Commerce Times.
"The least [affected] would be the states where there aren't a whole lot of corporate headquarters. Most cities are losing out. New York City's unemployment rate is higher than the national average. I've got to think it's the same in places like Chicago and San Francisco."
While it is difficult to quantify which regions have been most affected by offshore outsourcing, overall unemployment rates remain high. Thirty-five states now have fewer jobs than they did when the recession officially began in March 2001, according to the Economic Policy Institute's JobWatch.
More specifically, JobWatch reported that New England's overall unemployment rate stood at 5.2 percent in September 2003, with the Mid-Atlantic region at 5.9 percent, East North Central states at 6.4 percent, West North Central at 4.7 percent, the South Atlantic at 5.1 percent, East South Central at 5.5 percent, the Mountain area at 6.3 percent and the Pacific region topping the list at 6.6 percent.
Plan of Attack
As a result of the outsourcing employment drain, IT workers must begin considering themselves as part of a global workforce, according to Corbett. "For U.S. IT professionals, this probably means that their future success will come from moving up the IT value chain, focusing more on business, design and analyst skills — skills that are more client-facing — and less on the pure coding skills that are becoming commoditized and can be tapped anywhere around the world," he said.
U.S.-based IT professionals who specialize in high-end solutions and technologies will continue to be in demand in their homeland, Pelz-Sharpe agreed. "For the very bright, IT will continue to be a draw, but the jobs lower down the ladder in basic coding and support work will cease to be attractive," he said. "It's definitely not as attractive a career route as it once was, but you can't outsource everything, and much in IT remains complex and difficult. As such, there will always be opportunities, particularly for the specialist."
However, Nounou — whose company recently has lost an estimated $1 million in business and potential business opportunities due to offshore outsourcing — is less optimistic. He noted that companies such as General Electric are considering offshoring such functions as legal general counsel to foreign shores. In fact, some researchers have estimated that 500,000 financial jobs will head offshore in the next five years.
"It's not just limited to low-paying jobs," Nounou cautioned. "Given the technology, there's very little that's sacred that can't be offshored. It's pervasive. If the financial institutions are going to get bankers based in India doing analysis instead of doing it in New York — if Wall Street's paying one-tenth in India … you [don't only] lose jobs on Wall Street. No one measures the ripple effect."
Relocation Time?
While India and China have long been recognized as centers for U.S. offshore outsourcing, other nations also are hustling to tap into this lucrative market. Ghana, South Africa, Israel, Russia and several Eastern European countries all are vying for jobs and money in the sector.
"Places in Africa want to compete on cost," said Nounou. However, he noted, "It takes a lot of infrastructure to compete. It's going to be tough to compete with India, [though] other countries are beginning to make overtures. Once you reach a certain critical size, it tends to draw others. It's a magnet unto itself."
As Corbett added, "In each case, these countries become potential destinations once they reach a critical mass of skilled programmers who can provide high-quality work at competitive prices supported by the needed business, technological and governmental infrastructure."
Don't Forget Canada
U.S. corporations also are looking north, Pelz-Sharpe noted. "The most interesting one to watch from a U.S. perspective, I would suggest, is Canada — often described as nearshore rather than offshore," he said.
However, he added, semantics are fairly irrelevant. "It makes little difference when your jobs go north of the border. Again, it's a highly educated and productive workforce and, due to the dollar disparity, a great deal. In addition, the cultural differences are fewer and the physical distance [is reduced], such that close monitoring can be kept on the outsourced operation."
Indeed, for workers displaced by offshore outsourcing, it makes little difference whether their jobs are going to India, China or Canada. The end result is more competition for fewer positions, increased demand for sophistication and specialization — and the knowledge that corporations likely will outsource even the remaining functions someday.