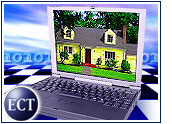 The first installment of this two-part series explored the notion that despite consumers' increasing demand for strong multimedia capabilities, vendors' low-end notebook computers can be a suitable replacement for home desktop PCs.
After all, the days of hundreds of dollars' difference between laptops and notebooks have disappeared, Randy Ramirez, president of Connecting Point Computer Centers, told the E-Commerce Times.
"The pricing has come down. It's gotten more even," he said. "There used to be a big gap between laptops and desktops. Not anymore. They're pretty close to the price of desktops."
Also, when consumers deduct the cost of a flat-screen LCD panel from a notebook's price, it would be virtually impossible to get a better deal on a desktop, IDC vice president Roger Kay told the E-Commerce Times.
"If you take the flat panel out of [an $800 notebook], that's $200," he said. "Then you're down to $600, and you can't get much [desktop] for that."
Of course, there are some tradeoffs to be made. "One way vendors save a lot of money is by using desktop parts, not laptop parts — specifically processors and disk drives," Kay said. Those less-costly desktop components are also heavier and chunkier than their purely mobile counterparts.
Making the Connection
Also, although low-cost notebooks are available, they cannot be everything to all users.
One feature that can drive up the price of a notebook is wireless capability — something more and more consumers are demanding. A growing number of homes sport wireless networks, and hot spots are cropping up everywhere from coffee shops to fast-food restaurants.
"One of the biggest factors that plays into the purchase of laptops is the wireless capabilities," said Ramirez. "It's a standard technology, which means it operates like a radio. That's one of the top three drivers. It used to be just at airports for business people and travelers. As people get more and more attached to their e-mail and the Web, wireless is growing."
Going High-End
Meanwhile, although Intel is continuing to sell and support the Celeron processor, the company is touting its Centrino chip as the future of mobile computing. For its part, rival AMD recently unveiled its Athlon 64 for both notebooks and desktops.
"More is typically better," said Kay. "It's a matter of price sensitivity."
Higher-end notebooks — which typically are aimed at more mobile users — have a heftier price tag, of course. For example, under its home and home office offerings, Dell lists its high-end 1.4-GHz Inspiron 8600, which includes a 15.4-inch WXGA display, free DVD burner upgrade and free upgrade to a 60-GB hard drive, for $1,549 if purchased online.
Gateway's high-end home model, the 200XL, features a 1.6-GHz Centrino, 14.1-inch XGA TFT display, 60-GB hard drive and DVD-R/RW/CD-RW for $2,199.99, according to the vendor's Web site.
At Almeida & Associates, most clients prefer to buy midrange systems, according to Stephen Almeida, owner and chief strategist of the Taunton, Massachusetts-based company. "At least in my geographical area, they're looking for middle of the range. They've come to realize you get what you pay for on the low end," he said, noting that his company offers both Dell and ProStar systems. Meanwhile, "on the high end, you can still pay between $3,500 and $4,000 for a notebook."
Not for All
Although many users have been enticed by the falling prices and portability of laptops, not all consumers are enamored with the technology. "I don't have any reason to buy a laptop," said Elaine Jackson, a 36-year-old dispatcher and mother of three who lives in Clover, South Carolina.
The family only uses its desktop computer for e-mail, online shopping and the children's homework, she said. And having the computer centrally located in the den reduces the chance of breakage and her children's opportunity to log on to potentially objectionable sites, Jackson noted.
Breaking Point
On the plus side for would-be notebook users, the notion that notebooks are flimsier than desktops is not necessarily true when it comes to computersused primarily in the home.
In fact, research firm Gartner estimates that notebooks used by traveling workers have a 25 percent higher cost of ownership than notebooks used in a more static environment, such as a home. In addition, total cost of ownership for a corporate notebook can range from 34 to 68 percent more than a desktop, the Stamford, Connecticut-based market company concluded.
However, this model is based on an enterprise's use of notebooks — which generally use higher-speed, more recent processors and include a greater wealth of features, plus the slim design and light weight demanded by corporate executives who travel frequently.
"Typically, a notebook will last one year less than a desktop," said Kay, noting that because these computers are transportable, they are more prone to being dropped or bumped.
Connecting Point's Ramirez disputed this point, however, noting that many people who purchase Apple Macintosh portables from his store frequently keep them for 5 to 10 years.
Bottom Line
In the end, consumers will vote with their wallets on the topic of whether the sleek sophistication of a thin, light notebook laden with bells and whistles is more desirable to them than a serviceable, less costly transportable.
Whatever users choose, industry experts agree that the notebook — in all sizes and formats — slowly is becoming the computer of choice for technologically savvy consumers.