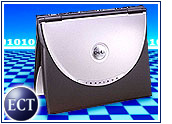 Executive road warriors probably would not want to tote Dell's $849 Inspiron 1100 or Gateway's $699 M305S. However, while sub-$1,000 notebook computers may be bulkier and less technologically cutting-edge than their more streamlined siblings, they still pack a powerful punch for a consumer's buck.
Indeed, for average consumers, who generally need to travel with their PC only a handful of times each year, trading a pound of weight or an inch of depth for several hundred dollars of savings should be an easy decision.
Perhaps as a result of the low cost of notebooks nowadays, consumers led the way in the second quarter of 2003 by purchasing notebooks to replace their desktops, according to research firm IDC. Notebook shipments grew 22 percent in the quarter versus the corresponding period in 2002, IDC found. At the same time, desktop sales increased just 2 percent, while total PC shipments grew 9.5 percent.
"Laptops have become just as fast and just as powerful as the desktop. It's multipurpose," Randy Ramirez, president of Connecting Point Computer Centers in Melbourne, Florida, told the E-Commerce Times.
Pulling Ahead
In May 2003, dollar sales of notebooks overtook dollar sales of desktops in the United States for the first time, according to The NPD Group of Port Washington, New York.
Laptops made up more than 54 percent of the nearly $500 million in retail computer product sales during the month, compared with 25 percent in January 2000, the research firm noted. Aggressive pricing, strong configurations and consumers' desire for mobility helped drive strong results, said Stephen Baker, director of industry analysis at The NPD Group.
He also noted that ticket prices dropped below $1,300 on some models, and the vast majority of notebooks sold featured 15-inch screens and a CD burner.
"Laptops are offering more to the consumers than the [desktop] towers," said Stephen Almeida, owner and chief strategist at Almeida & Associates, in an interview with the E-Commerce Times. "Laptop makers are doing some pretty imaginative things."
Leading the Way
One major change from the business-led innovation of yesteryear is that today's consumers are the ones pushing the envelope in some areas of computing, Roger Kay, vice president of client computing at IDC, told the E-Commerce Times.
"Consumers are now really, in some ways, on the leading edge in the adoption of multimedia usage," he said, referring to home users' desire to play games, view DVDs or movies, swap pictures and download music. "Both [business and home users] want to do e-mail, instant messaging and chatting. Business users want to use [computers] for productivity. Consumers want to use them to entertain."
Because of this, consumers do need "relatively highly specced devices in order to take advantage of video, audio and pictures," Kay said.
Doing Their Thing
However, the notebook boom is not a sign that most consumers need a true notebook, according to industry watchers. Rather, home users frequently want the freedom to use their computer in different rooms of their house — an office, den, patio or bedroom — as opposed to an airplane or hotel room.
Because of this, they can benefit from vendors' ability to incorporate some less expensive but often heavier desktop components into "transportable" computers, said IDC's Kay.
"What consumers generally are going for is a transportable," he said. "They don't really need mobility. From the consumer's point of view, it's called a mobile, but they don't really travel with it much."
"I view personal computers more as information-gathering and communication tools, rather than a source of entertainment," added Tim Grace, a Chicago-based writer and media relations executive.
"Mobile and remote access to news services and e-mail is crucial. And because I don't feel the need to invest in a BlackBerry or similar device, I would therefore buy another laptop rather than a bells and whistles-laden desktop system."
The Fine Print
Low-cost notebooks are not exactly no-frills. Dell's Inspiron 1100 features a 2-GHz Intel Celeron processor, a free upgrade to a 30-GB hard drive, 128 MB of DDR RAM and a free upgrade to a 24X CD-RW/DVD combo. Meanwhile, Gateway's M305S includes a 2.2-GHz Intel Celeron processor, 20-GB hard drive, DVD-ROM drive and 128 MB of DDR RAM. Both models have a 14.1-inch XGA screen.
Most home users probably would like to include a CD/RW/DVD, Kay said, noting that laptop manufacturers can add extras — such as wireless accessibility or increased graphics memory — for just a few dollars more.
"For $800, you'll get a usable system," he said. "The question a consumer has to ask [him or herself] is, 'Do I need more?'"
Go on to Part 2.