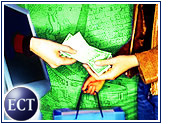 Web site designers at e-commerce companies may be feeling repressed these days because growing customer demand for site usability is limiting designers' freedom to employ the beloved bell-and-whistle.
Web merchants have become laser-focused on expediting thepurchasing process, so designers are having to justify theirwork in terms of usefulness first — and aesthetics second.
"It has to do with a greater awareness of usability principles," Forrester analyst Randy Souza told the E-Commerce Times. "Designers are starting to realize that if the customer cannot accomplish his goals, the designer cannot accomplish his."
That is not to say interactive and multimedia Web design solutions are inherently counterproductive. However, analysts agree that any design decisions must prioritize the needs of the site's customers.
Sometimes, glitz will not fit the bill. Other times, it will.
Heavyweight Battle
According to Souza and other analysts, more and more retail Web sites are using Macromedia (Nasdaq: MACR) Flash and other multimedia technologies.
However, the widespread adoption of those technologies by customers, is lagging under two main constraints: sparse demand and narrow-bandwidth Internet connections.
Companies will release graphics-heavy or multimedia Web site enhancements, Souza said, only to take them down due to poor customer feedback or accessibility.
In response to prevailing customer preferences, according to Souza, de facto design standards are beginning to emerge among e-tail sites. Elements of these standards are simple paradigms like navigational tabs across the tops of pages, section navigation on the left, and product categories and subcategories presented on home pages.
The Lure of Simplicity
Like many of its e-tailing peers, 1800Flowers.com(Nasdaq: FLWS) makes little use of multimedia technologies like Flash, RichFX, iPIX (Nasdaq: IPIX), and Viewpoint (Nasdaq:VWPT).
During its recent site redesign, 1800Flowers.com focused on designing a simple checkout process to help drive online revenues.
"We've researched using cutting edge technologies like Flash," 1800Flowers.com director of Web development Bob McManus told the E-Commerce Times. "We don't just throw things up on our site. If something won't enhance our site, it sits on the back burner in research and development."
Dialing Dilemma
The generally accepted explanation for why consumer demand for extravagant Web design is low has not changed in 2001. Too many customers have Internet connection speeds too slow for Web sites heavy with graphics, and others do not have or want to download the software necessary to view glitzy sites.
Many e-tailers consider multimedia technologies beyond the technical capability of the majority of their customers. For example, McManus said that the majority of 1800Flowers.com customers still use dial-up Internet connections.
No dramatic change in the broadband market is expected over the next few years. According to Jupiter Media Metrix, the penetration of broadband — defined as a high-speed (over 156 kbps) and persistent connection — in U.S. households will barely reach one-third in 2005.
Testing, Testing
Whether the broadband access hurdle is insurmountable is in dispute, however. The right moment for bells and whistles may in fact materialize, depending on the Web site and its customer needs.
Macromedia says its Flash product is designed for low-bandwidth animations and Web sites, and that 97 percent of online users are able to view Flash features with the Macromedia Flash player installed.
And even though broadband connections are slowly propagating, many e-tailers say they are likely to experiment more with high-bandwidth multimedia designs in the near term. According to a Jupiter Media Metrix survey, more than 75 percent of e-commerce executives said they plan to develop or launch broadband features for their sites by 2002.
Beginning with Lands' End
Perhaps the e-tailer most noted for enhancing online product presentation with multimedia design techniques is Lands' End (NYSE: LE), which noticed that its online customers, because of their desire to try on garments, were inhibited from completing purchases.
The question was, how far did Lands' End dare go in redesigning its site to accommodate those shoppers.
"We want to be compatible with the broadest base of Internet users," Lands' End.com executive producer Dave White told the E-Commerce Times. "Therefore we limit our use of Flash, dynamic HTML (DHTML), and plug-ins. We assume relatively low bandwidth for our customers."
Designs on Design
Lands' End responded to the question of how customers can try on clothes via the Web in October 2000 with a virtual model that simulates a dressing room experience — and in the first six months saw model-aided conversion rates that were 26 percent higher than normal.
"We typically approach the use of technology as a solution to a customer-facing problem," White said. "We do not force technology on our customer for the sake of using technology."
Other companies have also found a way to justify more evolved Web design. Office furniture retailer HermanMiller, for example, offers a three-dimensional room configuration tool, with zooming, spinning and scanning capabilities.
Similarly, several online real estate sites like Homestore.com (Nasdaq: HOMS) and Century21.comoffer virtual tours of homes on the market.
Getting Physical
Worth noting in these examples is that customers prefer to physically experience the products cited before buying them. Some products like clothes and homes are better suited for interactive presentation than other items like books or travel are, Jupiter analyst Stacey Herron told the E-Commerce Times.
So although the options seem myriad, the thought process does boil down rather simply.
Before, e-tailers went too far with everything-but-the-kitchen-sink Web design. However, a cool feature here or creative functionality there will boost online success, if geared to make the site friendlier or easier to use.
According to a Jupiter Media Metrix survey, 35 percent of online buyers said that better presentation of products would encourage them to make more online purchases. That is what one might call a significant minority.
The bottom line for Web design: Know your customer.