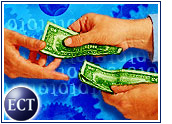 Business-to-business (B2B) incubator Internet Capital Group (Nasdaq: ICGE) said Wednesday that it cut its losses in the third quarter, and predicted that some of its member companies will break even in 2002.
For the quarter ended September 30th, ICG reported a net loss including charges of US$235 million, down from $263 million a year ago.
"All of our companies are making progress toward profitability, even in tough economic times," ICG president and CEO Walter Buckley said.
Buckley also indicated, however, that ICG may continue to reduce the number of firms in its network.
"We're continuing to streamline and to focus on those firms with the best chance for profitability and long-term success," he said.
The net loss for ICG for the quarter came out to 85 cents per share, compared to 94 cents per share in the year-earlier quarter.
Look Here
Wayne, Pennsylvania-based ICG said its 15 "developed companies," which receive the lion's share of ICG's investment and attention, lost $55 million before charges in the quarter, compared to $121 million in Q3 2000.
Revenue for the developed companies nearly doubled to $71 million from $36 million in the year-ago quarter.
The most promising companies in the ICG portfolio include Logistics.com, eCredit.com and CommerceQuest, Buckley said.
Logistics.com is an application service provider for transportation management services, while CommerceQuest offers B2B software and integration services.
November Trim
ICG said it would end the year with $250 million in cash, up from previous estimates of $200 million. The incubator's cash reserves got a boost from its sale of its Asia unit to Hutchinson-Wampoa earlier this year, as well as other spinoffs that brought in about $150 million.
"Our goal is to create a company that is completely independent of the capital markets," Buckley said.
Not relying on the capital markets is key for ICG, whose stock traded early Thursday at $1.27, down 12 cents.
Batten Down
ICG began paring its focus almost precisely one year ago, when it announced that it would lay off 35 percent of its workforce and begin to jettison companies that were not close to generating profits. Since then, ICG has shrunk its holdings from 80 companies to 52.
At the same time, the incubator said it is continuing to boost its ownership in the best-performing companies in its portfolio. ICG said it now owns 99 percent of eCredit.com, for instance, and 97 percent of Logistics.com.
In pursuit of its goal of financial independence, ICG said it plans to buy back up to $300 million of its outstanding debt over the next several months.